Budding scientist wins with lip gloss
4/11/2014, 6:02 a.m.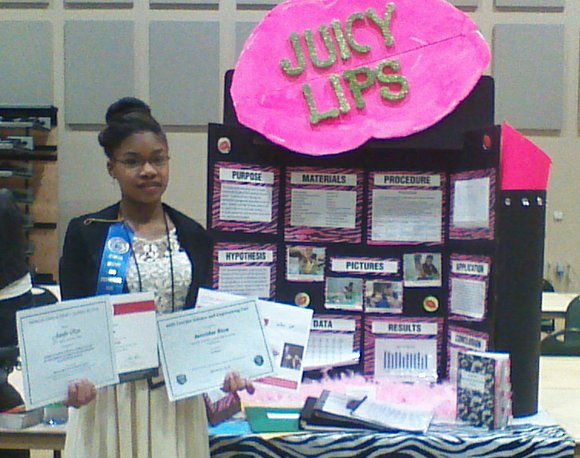 Mount Carmel Christian School eighth-grader Jennifer Rice walked away with two first-place wins at the Georgia Science and Engineering Fair last month for her "Juicy Lips" lip gloss.
Jennifer won 1st Place Honors in Chemistry and 1st Place American Chemical Society and received a Certificate for Outstanding Scientific Research and a nomination to compete in the Broadcom MASTERS – Math, Applied Science, Technology, and Engineering for Rising Stars – at the GSEF-Junior Division on March 29.
The Broadcom MASTERS, a program of Society for Science & the Public, is a national science, technology, engineering, and math competition for U.S. sixth-, seventh-, and eighth-graders.
The three-day exhibition at the University of Georgia in Athens showcases the best science and engineering research work of Georgia's middle and high school students.
Jennifer also won first place in the Junior Division for Chemistry during the DeKalb County Regional Science Fair at Arabia Mountain High in February.
For her 2014 Science Fair entry, she researched the history and chemistry of lip gloss-making and used beeswax and essential oils to make her lip gloss.
She varied the amount of beeswax she used, surveyed middle school girls at her Stone Mountain school and at Bethune Middle School in Decatur, and used statistical analysis to compile the data. She determined that her lip gloss was marketable and helpful to the environment and cosmetic industry.
Jennifer's wins follow the accolades she received at the 2013 Georgia State Science Fair for her manufacture of soap.