Peachtree bandit's legal story now in book
4/11/2014, 6:08 a.m.
Author and retired WGST-AM morning newsman Tom Hughes will talk about the teenage "Peachtree Bandit" and his fight to avoid the gallows in the 1920s on April 14 at the Decatur Library.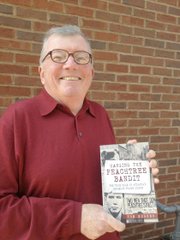 The talk, part of the Georgia Center for the Book's Festival of Writers Series, starts at 7:15 p.m.
Hughes' book, "Hanging the Peachtree Bandit," follows Frank DuPre's legal battle to avoid the gallows, pitting the city of Atlanta against itself in what would become the first significant challenge to capital punishment in Georgia.
On Dec. 15, 1921, during the height of the Christmas shopping season, a daring robbery of a jewelry store sent shock waves down Peachtree Street in Atlanta. It resulted in a manhunt and the arrest of 18-year-old DuPre, who was accused of killing two men simply to steal a ring for a young woman he had known just one week.
The story inspired the songs "Dupree Blues" and "Betty and Dupree."
Hughes, 66, is a member of the Georgia Radio Hall of Fame. He also wrote the true crime story "Rich Georgian Strangely Shot."
The library is at 215 Sycamore St. in downtown Decatur. For more information, visit www.dekalblibrary.org or call 404-370-3070.