Fun in the mud at Georgia State Parks
4/18/2014, 3:26 p.m.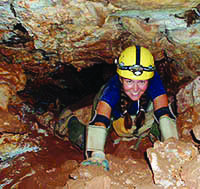 Georgia's state parks and historic sites offer guided hikes, train rides and other outdoor adventures throughout April.
Here is a sampling:
n Wild Cave Tours will be offered Wednesdays, Saturdays and Sundays in April at Cloudland Canyon State Park in Rising Fawn.
You will get muddy and wet on this family-friendly underground adventure. Tours are offered by Georgia Girl Guides on weekends and some weekdays – visit www.GeorgiaGirlGuides.com. Reservations are required. $30-$60. $5 parking. Call 706-913-7170.
n Billy's Island & Okefenokee Swamp Tour on Saturdays from 10 a.m. to noon through May 31 at Stephen C. Foster State Park in Fargo. Tour historic Billy's Island, home to Native Americans, pioneers, and lumbermen for thousands of years. Participants will take a boat out to the island and hike the short trail, about 3/4 of a mile, and view some of the relics left from times past. $15-$20 $5 parking. Call 912-637-5274.
n Americus Adventure Train Ride on April 25 from 9:30 a.m. to 4:50 p.m. on the SAM Shortline Train in Cordele.
Riding in air-conditioned, 1949 vintage train cars, participants can travel from Cordele through the Georgia Veterans State Park, across Lake Blackshear, tour Habitat for Humanity's Global Village, and sample peanut butter treats in Plains. There is a fee. Call 229-276-0755.
n New Moon Kayak Tour on April 26 from 8 to 10 p.m. at Hard Labor Creek State Park in Rutledge.
Enjoy the night sky at Lake Rutledge. Join this ranger-led tour of the lake and enjoy night sounds, star-gazing, and a relaxing time on the water. A new moon means that many stars will be visible on the nighttime paddle. Register in advance. $15 plus $5 parking. Call 706-557-3001.
n Bartram's Palette and Pen Open House on April 27 from 1 to 4 p.m. at Smithgall Woods State Park in Helen.
The purpose of the open house is to introduce a new series for aspiring or experienced artists and writers and to open ways to incorporate inspiration from nature into their work. Visitors can understand the series better by chatting with artists and writers while they are "at work in the woods." $5 parking. Call 706-878-3087.
For more information on accommodations, recreation and directions, visit GeorgiaStateParks.org or call 1-800-864-7275.