Panola Road traffic signal finally lights up
Ken Watts | 4/18/2014, 6:20 a.m.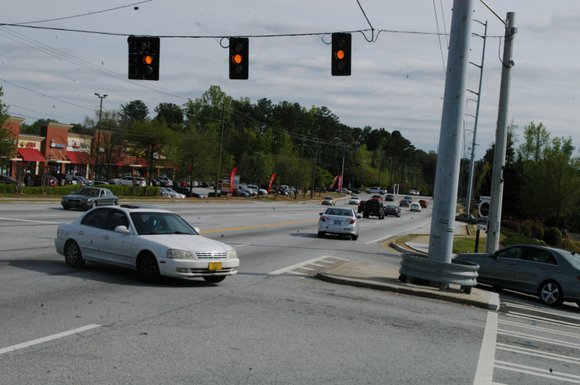 Nine months after it was installed, the traffic signal that will help customers get in and out of businesses along the 300 block of Panola Road is finally operating.
DeKalb County crews switched the light to flashing yellow and red on April 17.
It will be fully operational on April 21.
David Pelton, the county's transportation supervising engineer, said there is still a bit of work left.
"There is one last technical issue that we need to fix, but assuming everything goes well, the signal should be functional at 10 a.m. Monday," he said.
The signal, installed at a cost of $112,000, is a gift from Publix, which anchors the Centre at Panola, and Kite Realty, the shopping center owners, to enhance safety for customers and tenants. Customers had long complained about the difficulties of getting in and out of the center onto busy Panola.
The project, which was completed on July 29, 2013, was plagued by technical issues and the lights remained shrouded in black plastic over one of South DeKalb's most congested streets for nearly nine months.
Frustrated by the length of time it took to activate the lights, residents have been writing letters and emailing county officials and the media.
In March, Bev Willis, broker/owner of Beverly Ann Properties LLC, sent an email to CrossRoadsNews about a Sept., 6, 2013, article that detailed the problems.

"This article was published six months ago and still there is no working traffic light," she wrote. "Would this still be a problem if it was in North DeKalb?"
Lucius Gundy, another resident, just got tired of seeing the plastic bags over the lights.
"These lights really detract from the appearance of Panola Road at this location," he wrote in an April 10 email to DeKalb Commissioner Stan Watson's office.
DeKalb inspectors found that the signal's wiring didn't meet minimum specifications and would not synchronize with other traffic signals on the road. The county said it had to wait for the Publix contractor to make fixes before it could order power to be installed.
The new lights will control north-south traffic on Panola, giving customers and patrons of businesses along both sides of Panola, including Publix, IHOP and Bank of America, safe entry and exit.