SWD athletes sign with colleges
4/18/2014, 6:10 a.m.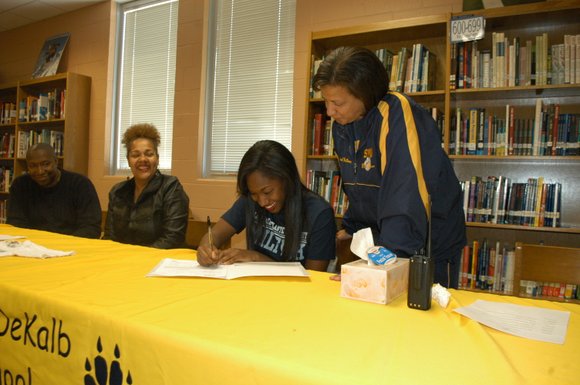 Southwest DeKalb athletes Darsan DeShazier and Lauren Jones inked four-year scholarships at their school on April 16.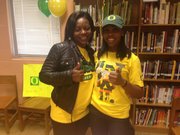 Darsan signed a basketball scholarship worth more than $100,000 to Palm Beach Atlantic University on April 16.
Lauren signed a four year scholarship to the University of Oregon to compete in the new sport of acrobatics and tumbling.
Darsan, who will graduate with graduate with a 3.8 GPA, co-captained the SWD Lady Panthers when they won the state championship in 2013 and this season when they reached the finals .
She said she is excited anout going to Palm Beach Atlantic, which is in West Palm Beach, Fl.
"I fell in love with the campus on our visit down there with the beautiful beach nearby," she said. "I also got to sit in on some classes so I think it'll be a good academic fit."
Darsan plans to major in business and become an entrepreneur.
Her parents, Sandra and Darrell DeShazier, coach Kathy Walton and a host of family and friends witnessed the signing event.
Her father said he's proud of the way Darsan has kept a balance in her life.
"I'm extremely happy, overjoyed with how she's turned out," he said. "She's always loved the game and it paid off, but she never neglected her studies."
Walton described her as a "dream" player, a savvy shooting guard and natural leader on the court.
"She came to me already prepared to be coached," said Walton. "But she was also very mature, set goals and was willing to work toward excellence. That's a tribute to her parents."
Darsan plans to major in business dreams of becoming an entrepreneur in a yet-to-be chosen field.
Versatile and compassionate
Lauren who was on Southwest DeKalb's gymnastics, swimming and lacrosse teams, will be at the University of Oregon's campus in Eugene, where they are three-time national champions in the sport.
Her scholarship is worth about $97,000.
Lauren also played oboe in the school orchestra.
Walton said acrobatics and tumbling are similar to gymnastics and competitive cheerleading with compulsory skills and team routines.
She said that Lauren is versatile and compassionate at school.
"She helped out on the special needs program helping special ed teachers in their classes," she said.
She is the daughter of Dorian Sanders, and Fred Jones, a SWD alum who played wide receiver for the Kansas City Chiefs.