Tree lover to get Arbor Day award
4/18/2014, 3:20 p.m.
UGA professor Dr. Kim Coder will get an Arbor Day Award on April 26.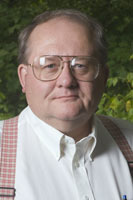 Coder, a professor of Community Forestry and Tree Health at the Warnell School of Forestry and Natural Resources, will get the Morton Award, the highest honor bestowed by the foundation.
He is one of 13 individuals, organizations and companies being recognised for outstanding contribution to tree planting, conservation and stewardship. The ceremony takes place at the Lied Lodge & Conference Center at Arbor Day Farm in Nebraska City, Neb.
Coder is recognized across the globe as an expert on the effective planning and proper care required to grow and maintain a vital urban and community tree canopy.
He is considered a "founding father" in the establishment and evolution of best practices integral to the field of arboriculture, and is known for his unique ability to effectively engage audiences with his knowledge, passion and visionary leadership.
The Arbor Day Foundation inspire people to plant, nurture and celebrate trees. For more information, visit arborday.org.