DeKalb is home to two of Ga.'s top five high schools
Ken Watts | 4/25/2014, 6:05 a.m.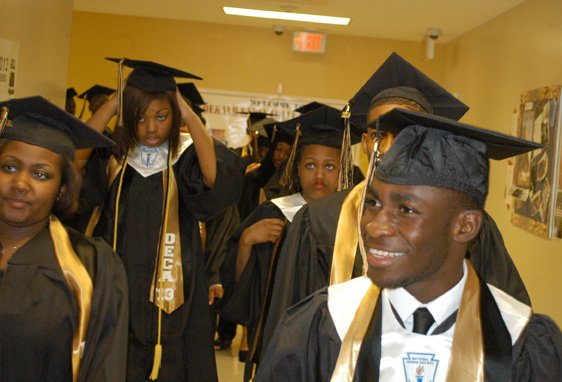 Stone Mountain-based DeKalb Early College Academy is Georgia's highest performing high school.
The school, which has 66 percent of its students from low-income families, is one of two DeKalb County schools in the top five on the state's College & Career Ready Performance Index that ranked 447 high schools across the state. DECA had a CCRPI score of 99.3.
"Obviously we're thrilled because it shows that the early college model for high school is effective even though it's only been here in DeKalb since 2006," said DECA Principal Edward Conner.
anking second, third and fourth were Johnson Magnet in Richmond County, Gwinnett School of Mathematics and Columbus High in Muscogee County.

DeKalb School of the Arts ranked fifth with a CCRPI score of 95 in the results released April 21 by the state Department of Education.
DeKalb Schools Superintendent Michael Thurmond said they are encouraged that DeKalb is the only district in the state to have two high schools in the top five.
"We have planted the seeds for far more academic growth and achievement throughout our school system and we expect for them to bear fruit in coming years in this and other critical measurements," he said in a news release on April 21.
Three DeKalb elementary schools – Wadsworth (96.9), Austin (96.5) and Kittredge (96.1) – placed in the top 25 of the state's more than 2,000 elementary schools.
Several other DeKalb schools showed remarkable improvement on the index that was reformulated in 2012 to place greater emphasis on academic progress.
Cedar Grove, a Title I high school with seven of 10 students from low-income families, posted significant gains, as did Clarkston High School and Cross Keys, which have high percentages of English Language Learners.

The results are based on data from the 2012 and 2013 school years. The state said the scores were revised and refined based on "valuable feedback" from education partners and the public.
Statewide, elementary schools saw a one-year increase in scores to 78.5 from 74.9.
Middle schools increased their scores to 75, up from 73.9, while high schools saw a one-year decrease to 72 from 73. The DeKalb School District, which has an enrollment of 113,327, scored 62.4.
The College & Career Ready Performance Index is Georgia's statewide accountability system. It was implemented in 2012 to replace the No Child Left Behind Adequate Yearly Progress measurement after the U.S. Department of Education granted Georgia's waiver from NCLB on Feb. 9, 2012.

The state says it measures schools and districts on a 100-point scale, helping parents and the public better understand how schools are performing in a more comprehensive manner than the pass/fail system in place under AYP.
State School Superintendent John Barge said many people worked hard to make sure the index provides the most accurate, effective measure possible of the work schools are doing to prepare students for success.
"This is an index that is both comprehensive and simple to understand, and it is an important component of our efforts to ensure that all students graduate from high school ready for whatever they choose to do, whether that be going to college, joining the military, or immediately beginning a career," he said.