Hold candidates responsible for placement of their signs
4/25/2014, 6 a.m.
I recently had an incident regarding the pulling up of signs.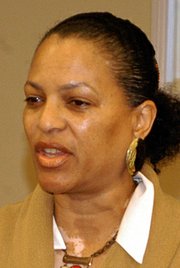 It's a personal incident but I'm sharing it because it reflects something important – the maintenance of standards, which is what improves the quality of life in our neighborhoods.

I attempted to work toward these standards and found my personal safety potentially compromised. And this was from pulling up signs mostly by people running for sheriff of our county.

If our candidates for sheriff don't obey the rules, then what message are they sending to others like the guy who confronted me.

In essence, I believe those candidates that allow their people to put their signs wherever (and I hold the candidates responsible for the placement of their signs) actually put me (the person trying to uphold standards) in greater danger because it emboldens the people putting down the signs.
After careful thought and seeking advice from my fellow board members at the South DeKalb Improvement Association, I decided that I am going to continue taking down the signs.

I'm not going to let threats or fear stop me.

We have a choice to make. We can continue to live in fear from all these people who attack us or we can choose to confront our fears and be Men and Women.

I thought of Martin Luther King Jr. and the people in the civil rights movement who were targeted, vilified, put in jail and threatened by people who really would and did kill them.
By them facing their fears, we were rescued from segregation in America.

In us facing our fears, we will rescue ourselves from those who burglarize us and destroy our sense of personal safety.
I am not at all proposing that you confront violators. Don't.

I do propose that just as they did in the civil rights movement, we organize and strategize about how we are going to turn things around.
Dr. Kathryn Rice is a co-founder of the South DeKalb Improvement Association. She lives in Stone Mountain.