Jones makes brief appearance at sheriff's forum in Lithonia
After missing two forums this month, former CEO Vernon Jones, one of eight candidates for DeKalb County sheriff, showed up at an April 22 forum at Stonecrest Library.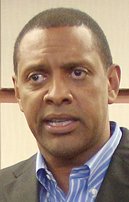 But he did not stay long.
Alpha Kappa Alpha Sorority's Stone Mountain/Lithonia Tau Pi Omega and DeKalb Lambda Epsilon Omega chapters, who presented the forum, said Jones came late and left early.
"In a manner of speaking, he stormed out," said Diane Reynolds, who chairs the Stone Mountain chapter. Reynolds and others said Jones arrived about 10 minutes into the event.
"We weren't expecting him because he told us he a previous engagement but we were prepared anyway," she said. "We pulled up a chair for him at one end of the table."
With Jones' arrival, all eight candidates on the May 20 ballot – incumbent Sheriff Jeffrey Mann, and challengers Dale Collins, Ted Golden, Melody Maddox, Melvin Mitchell, Tony Hughes, and Lasalle Smith Sr. – were at a forum together for the first time.
Jones answered a few of the questions given to the candidates before balking at one that asked for the candidates to say something positive about one other.
When it was his turn, instead of offering a positive comment about his opponents, Jones reiterated his credentials before walking out on the standing-room-only crowd of 178.
"There was a gasp and murmurring," Martin said.
"People were saying they couldn't believe he did that," Reynolds said.
Before he left, Aidra Martin, the chapter's publicity chair, said the other candidates took jabs at him by saying that he was good a marketing because of the large number of his signs placed illegally around the county.
"As he pushed past me at the door, he muttered, 'this is charade,'" Reynolds said.
In the 45 minutes that he stayed, Jones answered many questions and even apologised for his overzealous supporters whom he said are responsible for his signs being every where.
Some of them plastered more than 50 signs along Klondike Road bewtween Mall Parkway and the library.
Reynolds said that as she was driving to the library at 5 p.m. to prepare for the 6:30 p.m forum when she saw a man putting out the red and white "Vernon Your Sheriff" signs.
Later, a woman, who arrived for the forum complained about the large number of signs.
"She was asking if it was legal to put that many signs out on one street," Reynolds said.
An officer on the scene went to pick them up.
Jones was out of town Thursday, but spokeswoman Cynthia Newton said he left "due to an overwhelming amount of requests for his attendance at community and neighborhood association meetings."
"Before leaving, he informed the citizens and apologized for having to leave the AKA forum early," she said.
Newton said that Jones' previous engagements conflicted with an April 6 forum in Clarkston and an April 8 forum at the Victory Church in Stone Mountain that he did not attend.
"His record of attending meetings, forums and public gatherings with citizens over the past 20 years is solid," she said in a written statement. "Vernon Jones knows DeKalb and DeKalb knows Vernon Jones. He will continue to carry his message to the citizens throughout DeKalb at neighborhood and community meetings, homeowner associations, churches and synagogues."
Despite the drama at the AKA forum, organizers said the audience appreciated seeing all the candidates side by side, even if Jones missed the last 45 minutes of the forum.
"One young woman came up afterwards and said she didn't know that a woman was running for sheriff," Reynolds said.
For herself, Reynolds, who has lived in the county for 21 years, said the forum helped her narrow her choices for the May 20 special election.
"It helped me cut it down to two candidates," she said.
Phyllis Cole, who chairs the DeKalb Chapter's Connections political arm, said the forum was informative.
"Most of the candidates I did not know anything about," she said. "It gave me an idea about their prorities, and what they would do if they became sheriff. It gave me a good sense of who they are.