Selected households begin test of once-a-week trash pickups
4/25/2014, 6:04 a.m.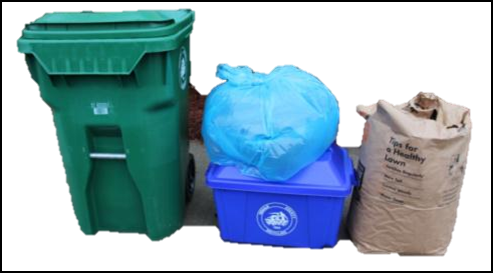 Beginning Monday, thousands of residents in unincorporated DeKalb and portions of Brookhaven, Chamblee, Dunwoody and Lithonia will help the county test once-a-week pickup of household trash, recycling and yard waste.
Over the Easter weekend, the DeKalb Sanitation Department delivered 65-gallon green containers and literature explaining the program and its objectives to 28,000 households it selected for the program. South DeKalb households – in neighborhoods along Columbia and Rainbow drives and Candler, Boring, Wesley Chapel, South Hairston, Kelley Chapel and Glenwood roads – account for nearly 10,000 of those participating in the pilot program.
DeKalb hopes the three-month pilot program, which is being implemented at a cost of $1.9 million, will lead to a major change in the way the county collects residential trash.
The cost includes the purchase of 33,000 65-gallon carts for $1.5 million and $400,000 to outfit 40 sanitation trucks with tippers to pick up the carts. The program is being financed by the county's sanitation enterprise fund that comes from sanitation fees paid by residents and businesses for trash pickup.
Currently, the county picks trash up three days a week from 160,000 households with 120 sanitation trucks.
Pilot program participants will have their garbage, recycling and yard trimmings collected on the same day in separate containers. Their pickup day will be their current day for recycling.Residents will store their household garbage in the green roll cart container provided by the county at no cost to them. They will continue to use their blue recycling bins and blue bags and place yard trimmings in customer-supplied paper bags or other appropriate containers.
The new containers also allow the DeKalb Sanitation Division to test new semi- and fully automated equipment on sanitation trucks, which the county says will reduce injuries to workers.
For more information, visit www.dekalbcountyga.gov.