Congress awards Gold Medal to Martin Luther King Jr., Coretta King
8/1/2014, 6 a.m.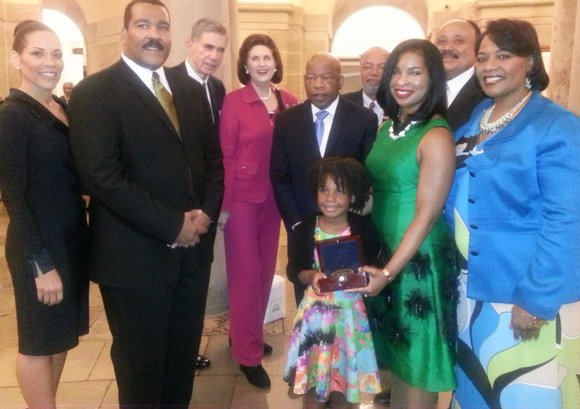 Dr. Martin Luther King Jr. and wife Coretta Scott King were honored posthumously in Washington recently with a Congressional Gold Medal.
The presentation, made to their children – Dr. Bernice A. King, Martin Luther King III and Dexter Scott King – took place during a June 24 ceremony in the U.S. Capitol Rotunda, commemorating the 50th anniversary of the Civil Rights Act of 1964.
The Congressional Gold Medal is Congress' highest expression of appreciation for distinguished achievements and contributions to the nation.
Martin Luther King Jr. was assassinated in Memphis in 1968 while visiting the city to support striking sanitation workers. Coretta King died in 2006 of complications from a stroke and heart attack.
Joining the family at the ceremony were Speaker John A. Boehner (R-Ohio), Senate Majority Leader Harry Reid (D-Nev.), Sen. Carl Levin (D-Mich.), U.S. Rep. John Lewis (D-Ga.), Congressional Black Caucus Chair Marcia L. Fudge (D-Ohio), and other Senate and House leaders.

Bernice King, CEO of the King Center in Atlanta, called it an "amazing day."

"This is the first honor of this magnitude where my parents are honored together, reflecting the powerful partnership they shared in the struggle for freedom and justice," she said, adding that her mother often said "that she did not just marry the man she loved, she married the mission and the movement."

King said that as founder of the King Center, her mother was the driving force that kept her father's nonviolent leadership philosophy in the public consciousness of the nation and the world.
"It was my father who recognized that she was a courageous partner and acknowledged on many occasions that without her strength and unflagging dedication to the cause, he could never have made it from day to day through the movement," she said.
The Kings join the likes of George Washington, Mother Teresa, Dorothy Height, Rosa Parks, Thomas Edison, Sen. Robert F. Kennedy, President Nelson Mandela, and the Dalai Lama who have received the Gold Medal since 1776.