Copper thefts a hot topic at public safety forum
Ken Watts | 8/1/2014, 6:05 a.m.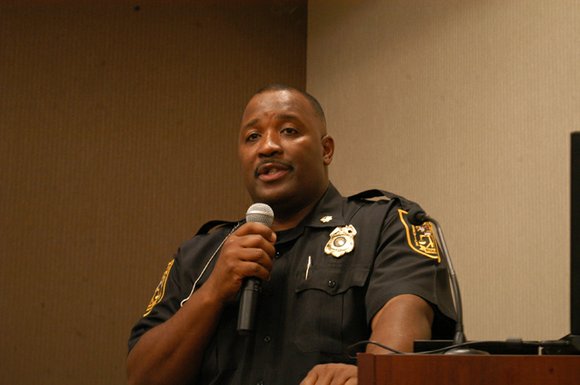 DECATUR — Residents concerned about the recent spate of copper thefts at libraries, churches and businesses in South DeKalb and other crimes pressed police for answers at a public safety forum in Decatur on July 29.
About 75 people turned out for the lively information session sponsored by the South DeKalb Improvement Association at the DeKalb Police South Precinct. The meeting covered a wide range of public safety issues, including burglaries, home invasions, registered sex offenders living in the community, emergency response, and crime mapping technology.
A resident wanted to know whether police could schedule increased patrols around properties where copper thefts have occurred.
Precinct commander Maj. Edward Jones said the copper thefts have proved to be a tough crime to crack because suspects have to be caught in the act and his force is stretched thin.
"The reason why the number of burglaries has plummeted overall is because we were able to put undercover units in different areas and it worked very well," Jones said. "The problem with these copper burglaries is that I no longer have a lot of day-side officers available for night duty to protect homes and businesses."
Jones said that he has officers watching the hot spots and going after the copper thieves but that they can't be everywhere.
"The other problem is that copper tubing has no serial number or registration that can be traced," he said. "The crook goes to turn it in for money and there's no way to say that he isn't a legitimate builder who got it from a repair job at a house."
In addition to surveillance, Jones said police are attacking the copper thefts by encouraging property owners to protect their HVAC units by burying their pipes to make them less accessible or enclosing them in rebar with alarms.

Since May 8, thieves have repeatedly stripped valuable copper from the HVAC units at the Wesley Chapel-William C. Brown Library in Decatur and at the Redan-Trotti Library in Lithonia, costing more than $230,000 in repairs.
Both libraries, which were hit multiple times, have been closed for more than two months.

Copper tubing also was stolen from air conditioning units at a number of area churches, including Hillcrest Church of Christ and Green Pastures Christian Church in Decatur and Antioch AME Church in Stone Mountain.
Using Smart911, 'Crimetrac'
Lt. Dane Cunningham, commander of E911, urged residents to sign up at www.smart911.com for the free service that allows residents to register their smart phones and their home land lines to create a safety profile in the event of an emergency.
"Generally if you make an emergency call to 911 from a cell phone and can't talk, we can triangulate cell towers and get a general idea of where you're located," Cunningham said. "With Smart911, we can type in your phone number and get your profile that gives us vital information that you put in ahead of time such as your address, chronic medical conditions, where you've hidden a key if you can't get to the door and open it for responders, any elderly or disabled people at the location and other helpful information."