El-Amin to facilitate Muslim talk
8/1/2014, 7:02 a.m.
An opening reception for Let's Talk About It: Muslim Journeys on Aug. 5 at the Scott Candler Library will offer an overview of the five-part series.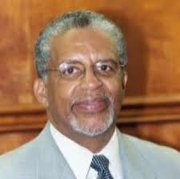 At the 6-to-8 p.m. event, patrons can meet the facilitator of the book discussions, Imam Plemon El-Amin, imam emeritus of the Atlanta Masjid of Al-Islam; register for the series; and check out the first book for the first discussion on Aug. 26, "Children of Abraham: Judaism, Christianity, Islam" by F.E. Peters.
Muslim Journeys is a scholar-led reading and discussion program designed to foster opportunities for informed community conversations about the histories, faith and cultures of Muslims around the world and within the United States.
The series has been made possible through a grant from the National Endowment for the Humanities in cooperation with the American Library Association. Local support is provided by the Georgia Humanities Council and One Region Atlanta. Call or visit the branch to register.
Scott Candler Library is at 1917 Candler Road in Decatur. For more information, call 404-286-698