Vin Martin, retired Jamaican consul general, remembered
Family, friends and the Jamaican community will celebrate the life of Vin Martin, the retired Jamaican consul general to Atlanta, at a homegoing service on Aug. 1 at Springfield Baptist Church in Conyers.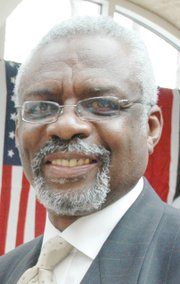 Martin, who lived in Stone Mountain, died July 23 at Emory Hospital after a long battle with cancer.
He was 70.
A prominent Atlanta attorney, Martin was consul general for 16 years. He retired in April 2013.
Born in Jackson Town in Trelawny on Jamaica's north coast, Martin installed to his first consular post in 1997.
For his years of service, the Jamaican government awarded him the Order of Distinction in 2013. He also received the Prime Minister's Medal of Appreciation and the Governor General's Achievement Award for Contribution to the Diaspora.
Stephen Vasciannie, Jamaica's ambassador to the United States, called Martin "a morally upright, kind and thoughtful attorney-at-law whose love for Jamaica remained with him throughout his life."
Vasciannie said that Martin played a key role in the life of the Jamaican community and was a source of guidance and inspiration for many Jamaicans, and especially those living in Atlanta.
"Not only was he the driving force in the Atlanta-Montego Bay Sister Cities Health Mission, he was also instrumental in arranging special events such as Jamaican Independence activities," Vasciannie said.
Franz Hall, Jamaica's consul general in Miami, said Martin exhibited an unparalleled drive in advocating for the interests of his fellow Jamaicans and an unshakeable passion for the development of Jamaica.
"He has made an indelible mark on the Jamaican community in Atlanta and further afield in the southern United States of America and, indeed, Jamaica," Hall said. "He will be truly missed by the persons whose lives he has touched."
Emory University professor Noel Erskine, who was a close friend of Martin, said he was extremely committed to serving the country of his birth.
Surviving are his wife, Hazel, and sons Cory and Kayon.
The service starts at 11 a.m.
In lieu of flowers, the family asks mourners to donate to Martin's favorite charity, the Montego Bay Sister Cities Foundation Inc.
Springfield Baptist Church is at 1873 Iris Drive.