Convict slavery film to be screened at library
8/8/2014, 6 a.m.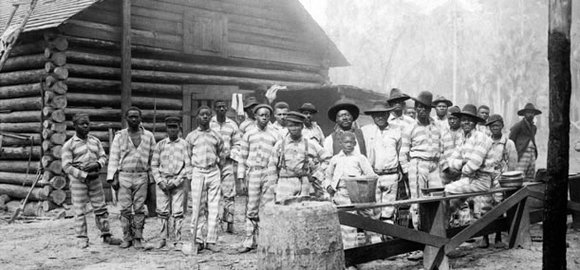 The PBS documentary "Slavery by Another Name," which recounts the many ways in which American slavery persisted as a practice many decades after its supposed abolition, will be screened Aug. 13 at Scott Candler Library in Decatur.
The 2-to-3:30 p.m. screening is part of the Created Equal program series that encourages community discussion about the civil rights era in U.S. history and the changing meaning of freedom and equality in America.
No registration is required.
The 2012 film, based on the Pulitzer Prize-winning book by Douglas A. Blackmon, addresses a shocking reality that often went unacknowledged, then and now: a huge system of forced, unpaid labor, mostly affecting Southern black men, that lasted until World War II.
It tells the stories of men charged with crimes like vagrancy, and often guilty of nothing, who were bought and sold, abused, and subject to sometimes deadly working conditions as unpaid convict labor.
The documentary is narrated by actor Laurence Fishburne and directed by Samuel D. Pollard, and its interviews with the descendants of victims and perpetrators resonate with a modern audience.
Christina Comer, who discovered how her family profited from the system, says "the story is important no matter how painful the reality is."
Blackmon, who covered race and politics for seven years at The Atlanta Journal-Constitution, was awarded the 2009 Pulitzer Prize for general non-fiction for Slavery by Another Name.
He served as co-executive producer of the acclaimed PBS documentary, which attracted an audience of 4.8 million viewers when it was broadcast in February 2012.
Created Equal: America's Civil Rights Struggle is made possible through a major grant from the National Endowment for the Humanities.

For more information, visit www.neh.gov/created-equal.
The library is at 1917 Candler Road.
For more information, visit www.dekalblibrary.org or call 404-286-6986.