DeKalb tightens purchasing rules to help curb corruption
Ken Watts | 8/8/2014, 6 a.m.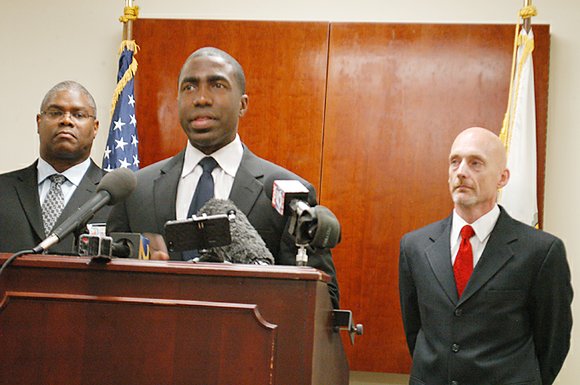 DeKALB COUNTY — Contractors wanting to do business with DeKalb will have to play by new rules that require more competitive bidding and bar unethical companies from the process.
With a pen stroke on Aug. 6, interim CEO Lee May signed an executive order replacing what he called a "convoluted" two-volume purchasing policy with a streamlined 39-page document aimed at preventing future corruption.
May and interim Purchasing Director Scott Callan unveiled the revised policy at a news conference at the Manuel Maloof Center in Decatur.
It requires that "all things must be competitively procured unless exempted" and establishes a purchasing advisory committee and an ineligible vendor list.
It also states that people with "business interests may not attempt to influence the outcome" of the procurement process.
"We must continue to work and improve our procedures and our people to achieve the standard of integrity and trust that the people of DeKalb County deserve," May said before signing the order.
May said he wanted to make it clear that the revised rules should not reflect poorly on hard-working employees who conduct business with contractors.
"The overwhelming vast majority" of the county's 6,500 employees "are good and honest public servants, but it's been made clear that there are a few bad apples and there has been an atmosphere, in years past, that has not fostered the best practices to be able to flourish," May said.
Viola Davis, founder of the Unhappy Taxpayer, a South DeKalb community watchdog organization, called the purchasing policy overhaul a step in the right direction.
"I'm very encouraged by the new policy because it addresses the purchasing and contracting department," Davis said after witnessing May's signature on the executive order. "That department is at the foundation of the problems that led to a number of our elected officials being indicted."
Nearly a year ago, a special grand jury report found lax spending practices in county government.
Government contracts were at the center of the grand jury's investigation, which led to the indictment of suspended county CEO Burrell Ellis.
When Ellis goes on trial on Sept. 8, he'll fight allegations that he inappropriately pressured contractors for campaign contributions.
The 39-page policy says competitive sealed bidding should be used for contracting whenever possible.
It takes punitive action against violators by creating an "ineligible source list" of people who can be barred from doing business with the county because of bad faith, breach of contract, a pattern of unethical behavior or a conviction of a crime involving moral turpitude.
May and Callan said the list will be formed by a committee made up of government employees from various departments.
The policy also prohibits any attempt to influence the outcome of a contract prior to it being awarded. Companies may be disqualified from consideration if they violate the rule.
The new policy also covers extreme circumstances such as emergencies when purchasing rules may have to be adjusted.
Callan said an emergency purchase would be appropriate when there's an imminent threat to the public health, safety or welfare or when there's been a loss of government services.
"Even during an emergency, however, this policy does require some form of competitive process as time and resources allow," he said. "The intent of this policy is simply our honest and public declaration that we want to clean up the contracting process in a fair and equitable way for all of DeKalb County."