Homeless campsites point to growing problem in DeKalb
Ken Watts | 8/8/2014, 6:08 a.m.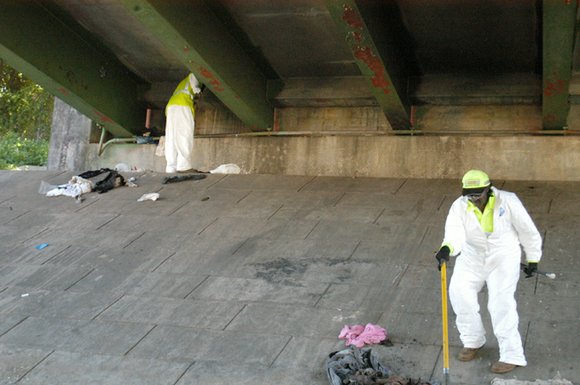 DeKALB COUNTY — Philip Davis has only worked at the Georgia Department of Transportation since June, but for the second time on July 29, he was part of a crew of four maintenance workers shoveling up a homeless camp in Decatur.
This time, Davis and his co-workers were under the Redwing Circle overpass bridge over the I-285 northbound lane near the Covington Highway exit.
As the crew scooped up old blankets, stained pants, tattered shirts, worn sweat jackets, old sneakers, empty water bottles and food cans on a ledge, interstate traffic whizzed by beneath them.
No one talked much.
The homeless camp cleanup was a task Davis and his co-workers performed with heavy hearts.
On that sunny Tuesday morning, nobody was "home."
The campers had all scattered for the day, perhaps to panhandle at interstate ramps and nearby shopping centers where some of DeKalb's homeless are often seen.
But that night, if they returned to sleep to the sound of cars and trucks rolling a few feet above their heads, the makeshift comforts of home would be gone.
Davis, who lives nearby in Decatur, said he was deeply affected by what he saw tucked away on a ledge at the top of a steep concrete embankment.
"I'm sad," he said, "that some of us have to live this way."
The cleanup is evidence of growing homelessness across DeKalb communities.
GDOT spokeswoman Natalie Dale said the department is responsible for removing campsites along state corridors.
"We have to ensure that the state's rights of way are clear of all items that might pose a safety hazard," she said.
That same morning, the GDOT crew also cleared another camp on the southbound overpass.
The crew was responding to a July 28 call from Commissioner Stan Watson's office about the camps perched under the overpass, Dale said.
Chris Morris, director of DeKalb Community Development, also got a call from Watson. Morris' office helps the homeless find new housing.
Before GDOT was called, Morris reached out to the nonprofit Hope Atlanta, which places homeless adults in emergency shelter and transitional housing. But when a caseworker went to the site on July 25, a man found living there did not want to leave.
Morris said the agency can only offer help.
"We can't force homeless persons to leave the streets, but we can refer them to sources that can help," she said.
While metro Atlanta's homeless population declined slightly in a January census, DeKalb's homeless population is growing.
A 2014 count by the Metro Atlanta Tri-Jurisdictional Collaborative on Homelessness found 801 people living on the streets, in shelters and in transitional housing in DeKalb, up from 705 in 2013.
In Atlanta, DeKalb and Fulton, the number of homeless people declined to 6,075 in 2014 from 6,664 in 2013.
In 2014, there were 4,497 homeless men, 1,551 homeless women, and 27 transgender adults.
The city of Atlanta had the most homeless overall with 4,797, and Fulton had 477.
Melvia Richards, DeKalb Community Development's housing program manager, said she is not sure why DeKalb homeless numbers increased but that more effective counting methods may be a factor.