Turner is May's choice for commission district 5 seat
Ken Watts | 8/11/2014, 8:20 p.m.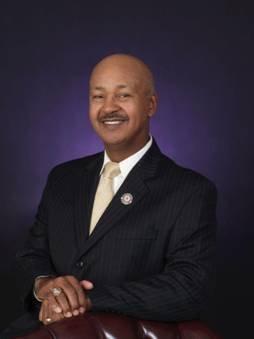 Longtime Lithonia resident George Turner has been nominated for the interim DeKalb District 5 seat.
Turner, a 25 year resident of Lithonia, was nominated Aug. 11 by Interim CEO Lee May, who is the elected District 5 commissioner.
Turner is president of the District 5 Community Council and the Hunter's Run II Homeowners Association, a board member of the Arabia National Heritage Area, and a past president of the South Lithonia Neighborhood Coalition. Turner also was legislative aide for State Senate District 43 for seven years.
May has been serving as interim CEO for just over a year, leaving the District 5 without a voting commissioner.
If appointed by the Board of Commissioners, Turner will serve until May returns to his seat, or a new election is called.
Turner said Monday that he was thrilled with the nomination for the position.
"I'm elated and greatly honored to be nominated for the seat but the nomination has to be confirmed by the Board of Commissioners," he said. "Until that happens I can't say more."
May was appointed interim CEO on July 16, 2013 by Gov. Nathan Deal after he removed CEO Burrell Ellis from office in the wake of his indictment on theft and corruption charges.
Ellis trial is set to start Sept.8. If he is acquitted and return to office, May will return to his commission seat.
The BOC voted at its Aug. 12 meeting to defer its vote on Turner's appointment to its Aug. 26 meeting so that the appointment can be discussed at its COPS meeting.
Turner, a retired MARTA rail supervisor, was one two finalists picked for the position by a citizen panel consisting of Lisa Allen, a Lithonia resident and community activist; Rosalind Newell, a Lithonia resident and attorney; and State Representative Rahn Mayo.
Dr. Katryn Rice of Stone Mountain was the other finalist. They were among 19 candidates who applied for the appointment.
During Tuesday's BOC meeting District 3 Commissioner Larry Johnson said he and his fellow commissioners will use two-week interval to meet with Turner.
The appointment for the temporary commissioner to represent the 140,000 residents in district 5 was made possible by the Georgia Legislature which passed SB 367 on March 20 to make it possible.
The absence of a seventh commissioner on the board of commissioners has led to a stalemate and hampered decisions on controversial matters.
As Interim District 5 Commissioner, Turner would receive the normal $38,000 salary of an elected commissioner.