Commissioners' appointments round out East Metro CID board
8/15/2014, 6 a.m.
CrossRoadsNews Publisher and Editor Jennifer Parker and McDonald's operator Van Jakes are the newest members of the mega East Metro CID board.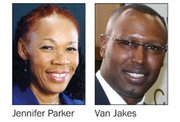 Parker and Jakes' appointments to the board were approved unanimously by the DeKalb Board of Commissioners at its Aug. 12 meeting.
The two South DeKalb business people round out the seven-member board of the new Community Improvement District.
The 39-mile-wide mega CID, created May 13 by the commissioners, is home to 1,250 commercial properties with assessed value of $2.4 billion. It is starting out with 400 parcels with assessed value of about $146 million.
Parker, who has pushed for improvements in South DeKalb for 20 years, said serving on the CID board will take her community involvement to the next level.
"Our newspaper has always highlighted the challenges and issues facing our community," she said. "Now I can be at the table helping to shape decisions that will transform our area into a community we will always be proud to call home."
Jakes, who was a member of the CID's formation board, said he is delighted to now serve on its inaugural board.
"I have been in east metro DeKalb for 20 years," he said. "I want to be part of branding southeast DeKalb as a destination. As I told the commissioners, you can be part of the problem or part of the solution. I want to be part of the solution."
The two join Citizens Trust Bank's Fred Daniels, Kaiser Permanente's Robert Ragsdale, attorney Trichelle Simmons, Decatur CPA James Clausell, and QuikTrip's Nathan Richardson, who were elected to the board by property owners at their June 20 caucus.
Parker is the publisher and editor of CrossRoadsNews on Candler Road, the only weekly community newspaper based in and focused on South DeKalb. The paper, which Parker co-owns with her husband, Curtis, is celebrating its 20th anniversary.
Jakes, CEO of Jake-22 Management Co., is a 22-year McDonald's owner-operator. He owns and operates three DeKalb restaurants – on Panola Road, Turner Hill Road, and in the Fairington Road Walmart.
He is a former NFL cornerback who played for the New Orleans Saints and the Green Bay Packers before retiring in 1991.