Smooth opening day as DeKalb students return to school
8/15/2014, 6 a.m.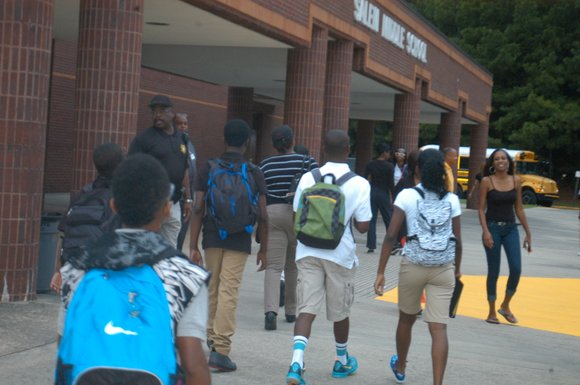 More than 100,000 DeKalb students returned to classes on Aug. 11 for the first day of the 2014-2015 school year.
Parents began dropping off their kids as early as 7:45 a.m. and the first buses arrived at 8:15.
Principals, teachers and administrators reported no major problems.
The new school year starts with a $20 million surplus, the district's first in many years.
School officials say the budget deficit that has plagued the system during the recent economic recession was eliminated over the last school year.
The new surplus allows the district to eliminate furlough days for teachers and hire 100 new teachers, media specialists and other school-based employees.
Over the summer break, copper thieves vandalized HVAC units at 16 elementary, middle and high schools, causing more than $800,000 in damage at Rainbow, Dunaire, E.L. Bouie, Fairington, Midvale, Murphey Candler, Oak View and Pine Ridge elementary schools; Columbia, McNair, Miller Grove, Redan, Salem, Stephenson and Druid Hills middle schools; and Martin Luther King Jr. High.
Maintenance workers scrambled to make repairs and to install temporary liquid chillers and replace rooftop air conditioning units in time for the start of classes.
Thieves damaged five rooftop air conditioners at Fairington Elementary in Lithonia, and with afternoon temperatures reaching into the upper 80s Monday, Jeffery Jenkins praised the district's quick response.
"The repair crew worked through the weekend before school opened to put new AC units in place and the building was at a comfortable temperature by the time the children arrived Monday morning," he said.
School Superintendent Michael Thurmond visited Shadow Rock Elementary in Lithonia and Margaret Harris Comprehensive School in southeast Atlanta to deliver opening-day pep talks to faculty, administrators and students.
In a welcome back letter posted on the district's Web site, Thurmond said students and parents will notice positive changes.
"We are improving school safety with new Student Resource officers in the elementary schools and improvements to outside access to schools," he said. "All buses will have a Global Positioning System for efficient tracking and monitoring capability."
Thurmond said the district is pushing ahead with efforts to boost student achievement.
"Our Growth and Achievement Model will continue to emphasize the learning needs of each child. Classroom instruction will prepare our students for the new Georgia Milestones, the new state testing model. Mathematics instruction will be a top priority."
This school year, the district, which is seeking to be a charter district for the 2015-2016 year, will draft its districtwide charter petition for the state Department of Education. When approved, the district will become the largest charter system in Georgia.
Thurmond said the new system will allow parents and school staff to have greater control over the direction of their school.
"We invite the collaboration of parents, communities and friends in this effort."