Youth movement leads Atlanta protest of Ferguson shooting
Ken Watts | 8/19/2014, 1:30 p.m.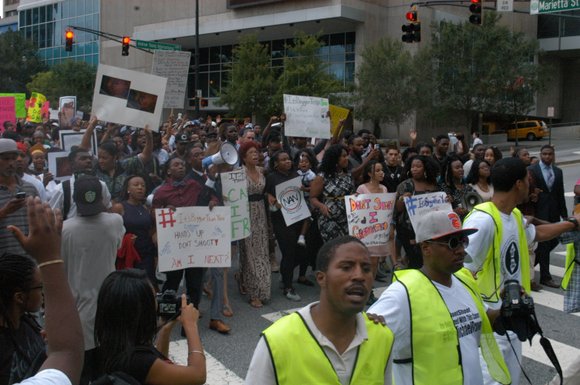 ATLANTA — A grassroots coalition of young people using the power of social media drew 1,500 demonstrators to downtown Atlanta on Aug. 18 to peacefully protest the fatal shooting of an unarmed African-American teenager by a white police officer in Ferguson, Mo., on Aug. 9.
In the tradition of hometown hero Martin Luther King Jr., protestors marched from a rally at CNN Center to the Center for Civil and Human Rights at Centennial Olympic Park and back, voicing their anger over the killing of 18-year-old Michael Brown.
"I am 19 years old. I am upset at the way our country handles people of color," lead protest organizer Elle Lucier told the crowd. "I have 17-year-old brothers and I can't imagine them lying in the street for hours without anyone calling me, my mother or an ambulance."
A private autopsy report indicated Brown was shot six times after the officer confronted him and another young man as the two walked down the middle of a Ferguson street.
Police and witnesses have given differing accounts of what happened in the moments before the shooting, though most agree there was a struggle between the teen and the officer.
Brown's death touched off a string of violent night clashes between demonstrators and police in Ferguson.
Missouri State Highway Patrol Capt. Ron Johnson said two people were shot and 31 people were arrested Monday night, some of whom listed addresses as far away as California and New York. There were also two fires reported, one at a business and another at an unoccupied residence. One of the shooting victims was rescued by officers using an armored vehicle.
Johnson said demonstrators were not the ones committing crimes.
"This was not an act of protesters," he told reporters. "This was an act of violent criminals."
There were no incidents reported in the Atlanta demonstration on Monday night.
Chanting "I Am Mike Brown" and "Hands Up! Don't Shoot!" the crowd marched north on Marietta Street just as the skies opened up and a deluge drenched the marchers. Instead of dispersing in the storm and heading for cover, the marchers cheered and continued their route around Centennial Park looping back to CNN Center.
"This injustice has been going on for a long time and people are fed up," said marcher Fred Wheat, 41, of Decatur, who works as promotions director at hip-hop record label GODN.
"This is a great turnout and a way of taking action but we have to vote as well," said Ann Selser of Atlanta.
Decatur lawyer Mawuli Mel Davis said the Davis Bozeman Law firm helped the young organizers of the event pull together their plans.
"We provided a sound system and logistical help," said Davis, who noted the generational shift in leadership of a civil rights demonstration. "It was their effort and energy that made this happen."
Lucier said students from about 20 colleges spearheaded the effort including Clark Atlanta University, Spelman and Morehouse colleges, and Kennesaw State and Georgia State universities.
Over the weekend, the group circulated a flier on social media titled #itsbiggerthanyou. "It's time for us to fight for our right to be human," the flyer read.