DeKalb demolishes 3 vacant school buildings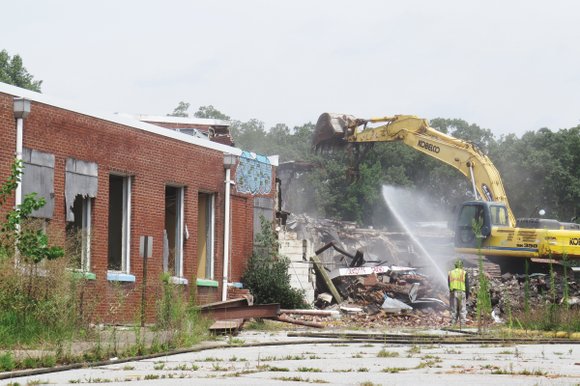 Three closed schools that educated thousands of DeKalb County students between 1935 and 2009 no longer exist.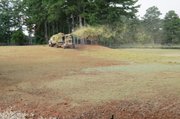 This week, the wrecking ball fell on two of the schools in Decatur – Hooper Alexander Elementary on Memorial Drive and Tilson Elementary on Bixler Court – and the old Chamblee Middle School in Dunwoody.
The three facilities, among 10 vacant and closed buildings owned by the DeKalb School System, were demolished ahead of schedule. The properties on which all three sat are being returned to green space while the school district decides what to do with the land.
The 68,906-square-foot Hooper Alexander Elementary was named for a DeKalb attorney and state legislator who served in the House with his law partner, Charles Murphey Candler, in the late 1800s to early 1900s. Alexander and Candler are credited with being the architects of Georgia's public school law.
Hooper Alexander Elementary closed in 2009 when the DeKalb Elementary School for the Arts relocated to Terry Mill Elementary on Fayetteville Road Southeast in Atlanta.
DESA was county's first magnet elementary arts school. It had arts students from 1990 but became an all-magnet school in 2002. More than 1,400 students applied for its 580 slots. In 2009, it was one of three schools relocated by the school system at a cost of $10 million.
The DeKalb School of the Arts, the high school magnet program, and the Elizabeth Andrews High School that were sharing the Old Briarcliff School Building on North Druid Hills Road were the other two.
The 57,549-square-foot Tilson Elementary, which opened in 1958, closed in 2009 because of declining enrollment and district cutbacks.
On Wednesday, all evidence of the building was gone. A crew of three men was spraying grass seeds on the property, which has been graded for green space.
The 63,792-square-foot old Chamblee Middle/Shallowford School on Chamblee Dunwoody Road has been abandoned for nearly six years, when a new middle school was built at 3601 Sexton Woods Drive, also in Dunwoody.
The old school was built in 1969 and a gymnasium building and covered walkway were added in 1998. Its 9.4 acres also are being returned to green space.
Demolition moved up
The demolitions of all three facilities by school contractor Atlanta Demolition Inc. were ahead of schedule.
And even as school spokesman Quinn Hudson was telling CrossRoadsNews on Monday that pest mitigation efforts would be completed this week and that the structure was scheduled to be removed between Aug. 25 and Sept. 15, tractors were knocking down the Hooper Alexander Elementary buildings on Memorial Drive. Hudson did not respond to queries about the reason for the more aggressive time line.
Hudson did say that the school district received a $1,001,623.05 insurance settlement for the Hooper Alexander Elementary buildings.
Crews began demolishing Hooper Alexander on Aug. 18, and by Wednesday, the buildings were reduced to a rubble of broken concrete blocks and mangled metal.
The school district took out all the buildings – the ones constructed in 1935; the additions that were made in 1953, 1969, and 1994; and the gymnasium that was built in 2000.