May reviewing his year at two more meetings
8/22/2014, 4:06 p.m.
Interim CEO Lee May will talk with residents at the Maloof Auditorium on Aug. 26 and at the Dunwoody Library on Aug. 27 in his series of community meetings reviewing his first year in office.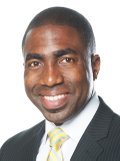 "A Retrospective Look Back, A Progressive Move Forward: A Candid Conversation With CEO Lee May" will focus on the county's accomplishments and issues over the past 12 months and some of the challenges in DeKalb's future regarding governance structure, cityhood and other issues.
Gov. Nathan Deal appointed May, the District 5 commissioner, to interim CEO on July 13, 2013, to replace CEO Burrell Ellis, who was removed from office after he was indicted on theft and corruption charges.
Ellis is scheduled to go to trial on Sept. 8. If he is acquitted, he will return to office and May will resume his commission seat.
May also has held meetings in Ellenwood and Tucker.
The Aug. 26 meeting takes place from 7 to 8:30 p.m. The Maloof Auditorium is at 1300 Commerce Drive in downtown Decatur.
The Aug. 27 meeting takes place from 6:30 to 8 p.m. The Dunwoody Library is at 5339 Chamblee Dunwoody Road.
May's annual report, of the same name, is available at www.dekalbcountyga.gov.