Boyer to plead guilty to federal mail, wire fraud charges
Ken Watts | 8/29/2014, 7:03 a.m.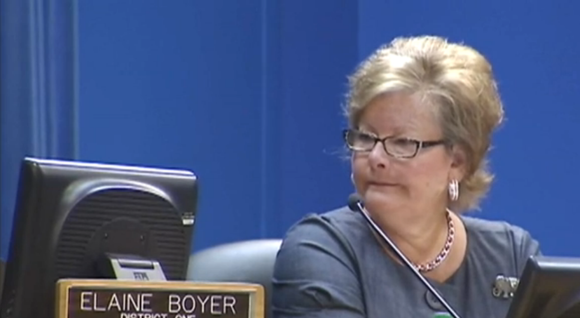 Former DeKalb Commissioner Elaine Boyer – who abruptly resigned Aug. 25, a day before she was to appear in federal court on mail fraud conspiracy and wire fraud charges alleging she bilked taxpayers of more than $90,000 – says she is going to plead guilty on Sept. 3.
Boyer, who was the District 1 commissioner for 22 years, is charged with submitting false invoices totaling $78,000 and defrauding the county with the improper use of her county-issued Visa Purchasing Card, or P-Card. She also was facing a DeKalb ethics investigation over her P-Card purchases.
The federal criminal charges allege that Boyer, a self-professed fiscal conservative, made more than $15,000 in purchases for personal goods and services for her and her family, including a ski trip to Colorado.
In a WSB-TV interview Monday, a tearful Boyer said she was sorry and ashamed.
"I've betrayed the people and I've abused my position of power," she said.
Boyer waived her right to a grand jury investigation so there is no indictment.
Federal prosecutors said the case against Boyer is part of a larger investigation into corruption in DeKalb County government but did not provide any more details.
Jeff Brickman, Boyer's attorney, told Judge Janet King that Boyer will plead guilty to the two counts against her and is cooperating fully with authorities. He said Boyer does not have a plea deal in place but that he will ask the judge not to sentence her to prison.
U.S. Attorney Sally Yates said Boyer took $90,000 in DeKalb taxpayer money in the fraudulent schemes and had used "the funds of the county like her own personal piggy bank."
She said cooperating won't keep Boyer out of jail.
"This is a serious crime," Yates said outside the Richard B. Russell Federal Building after Boyer's hearing. "She's cooperating now after she was caught … but that doesn't wipe the slate clean."
Boyer, 57, is expected in court on Sept. 3. She made no public comment after the hearing.

Boyer was photographed and fingerprinted and is expected to be formally arraigned within 10 days.
For now, she is free on $25,000 bond.
Boyer was the lone Republican on the Board of Commissioners. The affluent North DeKalb district she represented included Brookhaven, Dunwoody, Tucker and Smoke Rise, where she lived.
Boyer served on the board's Finance, Budget and Audit Committee and was chair of the Employee Relations and Community Services Committee.
In the court document, prosecutors allege that Boyer took part in a scheme to defraud DeKalb County and obtain money under false pretenses.
The mail fraud charge – read against her on Aug. 26 in the U.S. District Court in Atlanta – says that Boyer retained an unnamed individual ("Advisor") in September 2009 allegedly to assist her with government consulting and adviser duties on issues that affect her constituents.
"From September 2009 and November 2011, false invoices were submitted to Boyer's office for consulting services purportedly rendered by Advisor," the filed charges said. "In fact, Advisor performed no services for Boyer, constituents of District 1 or DeKalb County."