Karon's Father Tim returns to Mitford
8/29/2014, 6:40 a.m.
Fans can catch up with Father Tim when Jan Karon discusses "Somewhere Safe With Somebody Good" on Sept. 6 at Holy Trinity Parish in Decatur.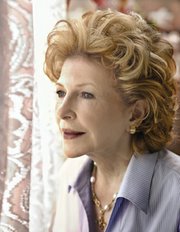 The New York Times best-selling author of the Mitford Series will discuss the character from 7 to 9 p.m.
After five hectic years of retirement from Lord's Chapel, Father Tim Kavanagh returns to Mitford with his wife, Cynthia, to discover that something – a pulpit – is missing.
When faced with the opportunity to accept a return to preaching, he must decide between God and his family.
Karon is the author of the best-selling series of nine Mitford novels featuring Father Timothy, an Episcopal priest, and the fictional village of Mitford set in the foothills of the Blue Ridge Mountains.
Holy Trinity Parish is at 515 E. Ponce de Leon Ave. For more information, call 404-370-3070.