Wesley Chapel Krispy Kreme finally going up
8/29/2014, 7:40 a.m.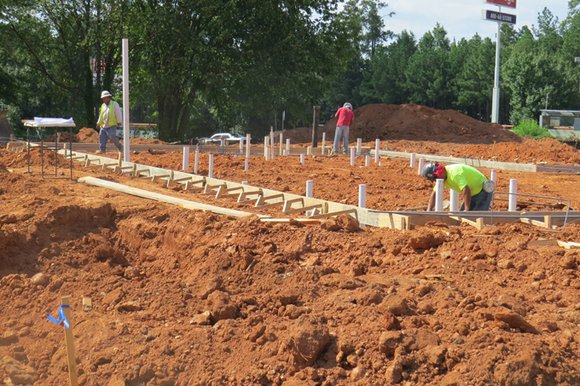 The long anticipated Krispy Kreme store on Wesley Chapel Road is finally under construction.
This week, a work crew was framing the foundation for the 2,671-square-foot store that is going up at 2533 Wesley Chapel Road at the corner of Snapfinger Woods Drive in Decatur.
The store is being built on the site of an old Wachovia Bank building, which became home to the nonprofit BDI.
The former bank building was demolished in early August to make way for the new store.
Winston-Salem, N.C.-based Krispy Kreme had been trying for more than a year to build a store on Wesley Chapel Road.
When company officials met with residents in January before filing its rezoning application with DeKalb County, they said the store will have 20 seats inside, a small outdoor seating area, 10-foot-wide sidewalks, bike racks, extensive landscaping, and 15 parking spaces and will employ 30 to 40 part- and full-time workers.

Krispy Kreme first tried to build on an old Hardee's restaurant site in the Wesley Chapel Kroger shopping center, but the deal fell through. A McDonald's restaurant is now planned for that site.
The Wesley Chapel location will be one of the first stores that the Krispy Kreme family will operate on the south side of the metro Atlanta region. When it opens later this year, it will be the second doughnut shop built on the corridor this year.
A 2,100-square-foot Dunkin' Donuts store opened on July 22 at 2555 Wesley Chapel Road, just two doors down from the new Krispy Kreme.
Michael Ratliff, the Krispy Kreme architect, said that the new store, which will have a drive-through window, will seat about 57 people.
The DeKalb Board of Commissioners cleared the way for construction of the Krispy Kreme store on March 25 when it approved a special land use application for the site.
The board's vote uniformed the zoning on the property to commercial and approved a drive-through window. Before, the property was zoned both commercial and office and institutional.
Krispy Kreme, which was founded in 1937, has been making doughnuts for 77 years. It has 812 locations in the United States and 23 countries around the world.
The Wesley Chapel store will be the smallest of three prototypes that Krispy Kreme builds. It will be the second constructed in Atlanta. The first opened on Buford Highway in October.