MARTA moving swiftly on Clayton expansion
12/12/2014, 6 a.m.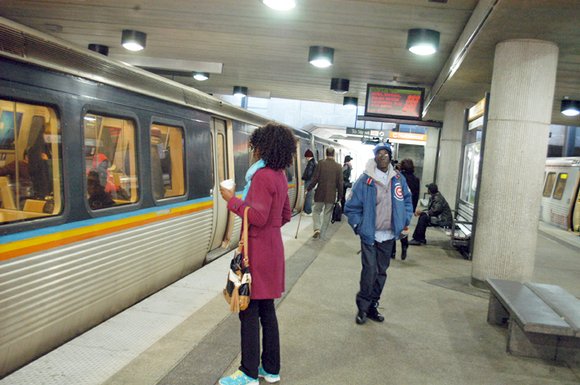 MARTA is moving aggressively to roll out the first bus service and paratransit service in Clayton County in March 2015 and grow it rapidly into a network of routes.
Keith Parker, the transit system's general manager, said Dec. 11 that MARTA is working hard to maintain that timeline.
"We're beginning to finalize what the final routes will look like," he said at a briefing at MARTA headquarters. "Our Police Department is down there actively recruiting new officers, we're recruiting new bus operators and every other type of position you can possibly imagine for bringing on that new service."
Parker said the initial Clayton service will begin in July with MARTA adding more routes, and the transit system should be fully operational there by July 1, 2016.
Clayton residents voted 74 percent on Nov. 4 to impose a 1 percent sales tax on themselves and join MARTA. It was the first jurisdictional expansion for the transit system since its inception more than 40 years ago.
MARTA Board Chairman Robert Ashe III, who attended the briefing, said the Clayton vote was impressive.
"To have a vote of 74 percent on a referendum to impose a sales tax – that's overwhelming," he said.
In wake of the referendum, elected officials in DeKalb and Fulton counties and the city of Atlanta – MARTA's original service area – approved the 14th Amendment to the Rapid Transit Contract and Assistance Agreement to include Clayton.
The expansion comes at a time of increased ridership and financial growth for the transportation authority.
MARTA analysts say most of the increase in passengers has been in Buckhead, Sandy Springs and Dunwoody.
In fiscal 2012, MARTA began to bring in more than it spent.
Chief Financial Officer Gordon Hutchinson said revenues outweighed expenditures by nearly $20 million in fiscal 2014 and have continued the trend at the beginning of this fiscal year. The system is now operating in the black with $422.8 million in revenue during the last fiscal year, up from $332.9 million in 2009. Hutchinson said the surplus is stored in reserves to be pumped back into the authority.
"We're really quite comfortable with the reserve levels," he said.
After weathering the recession and reductions in service and staff, MARTA says it wants to increase revenues and give workers a pay raise. Rather than increase fares, the authority has begun exploring concession projects in its stations to increase revenues.
MARTA's fares have not changed since they spiked to $2.50 in fiscal 2012. Ashe says they are discussing ways to offer food and other services at the transit stations.
"We, the board, have been looking for ways to increase revenues that don't burden our riders," he said. "The results of those have shown themselves in customer satisfaction and again in the nearly three-quarter vote we got in Clayton County."
Parker said MARTA has seen declines in fare evasion and crime reports and credits its year-old Ride With Respect campaign as a tremendous tool in making the overall customer experience more pleasant.
MARTA Police Deputy Chief Wanda Dunham attributed some recent success to increased safety measures. She said crime has been decreasing over the past few years.
All buses and stations are monitored by video cameras. Cameras for trains are being tested. Dunham said MARTA is developing a video analytic system – a smart system that can sense emergencies.
"It will let us know if a person is fighting or if a person has stepped on a track way," she said. "It will let us know in a timely fashion."