Brown opens campaign headquarters
Ken Watts | 2/4/2014, 12:21 p.m.
Sheriff Thomas Brown cut the ribbon on his new congressional campaign headquarters on Feb. 1 in Tucker.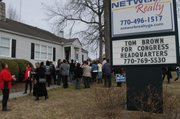 Brown told a crowd of about 150 supporters outside the office on Lawrenceville Highway that he will leave the Sheriff's office on Feb. 28 to to enter the May 20 Democratic primary.
He is challenging four-term incumbent Rep. Hank Johnson, who was elected in 2007.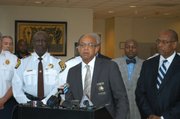 Chief deputy Jeffrey Mann will take over as Interim Sheriff on March 1. It will be the first time in nearly 14 years that someone other than Brown has led the Sheriff's Department.
The qualifying period for candidates in Georgia's state and federal races is March 3-7.

Brown, who was has been Sheriff since 2001, has worked for every DeKalb CEO starting with the late Manuel Maloof.
He promised the crowd at his ribbon-cutting that he'll bring "substantial jobs" to the district.
"We're not doing enough to prepare our kids for the next generation of high technology jobs or retrain good workers to find their place in the new workforce," he said.
Brown's career dates back to 1972 and include stints as an Atlanta firefighter, DeKalb fire chief and DeKalb public safety director.

He said he will reach across party lines to Republicans in the Georgia delegation to bring jobs and a larger share of federal funds for education and transportation to the 4th District which covers much of DeKalb as well as parts of Rockdale, Gwinnett and Newton counties.
The campaign headquarters, which shares space with Network Realty at 3782 Lawrenceville Highway, will be used primarily as a meeting place for senior staff and give them a place to sign up campaign volunteers.
"Some of our most critical business like fundraising is done online but the office gives us a visible location in the community for other campaign business." Brown said.