Dr. King's kids squabbling over his legacy again
Ken Watts | 2/7/2014, 6 a.m.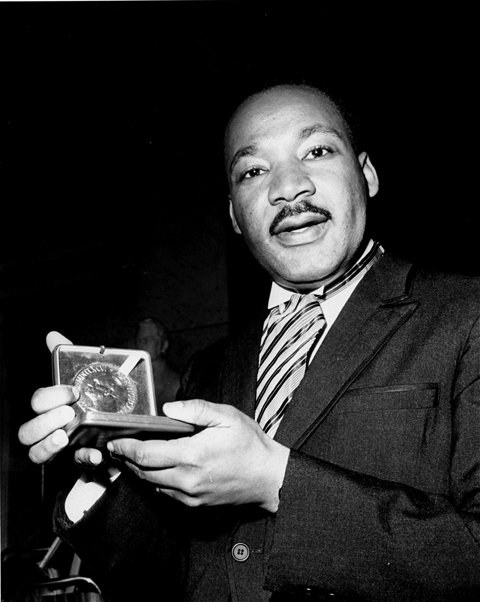 The heirs of civil rights icon Dr. Martin Luther King Jr. are in court again battling over his legacy.
The Rev. Bernice King and her two brothers – Dexter Scott King and Martin Luther King III – are fighting over their father's Nobel Peace Prize, which he was awarded in 1964, and the Bible he traveled with during the fight for civil rights in the 1960s.
The King estate, which is controlled by the brothers, filed suit Jan. 31 in Fulton County State Court asking a judge to force their sister to relinquish the items that are in her possession.
At a Feb. 6 news conference at the Historic Ebenezer Baptist Church, which her father co-pastored with her grandfather, Martin Luther King Sr., from 1960 to 1968, Bernice King said she has to stand up for her father.
"Daddy is not here to say himself that 'My Bible and medals are not for sale," she said.

The brothers and their attorneys had no comment on the case before press time Thursday.
Bernice King, CEO of the King Center in Atlanta, said in an open letter Tuesday that she immediately rejected her brothers' demand for the medal and Bible, which President Barack Obama used when he was sworn in for his second term in office.
She said her brothers notified her that they want to sell to a private buyer "our father's most prized possessions."
"I am absolutely opposed to the selling of these extremely sacred items and I expressed my opposition to my brothers," she wrote. "Although these items have been under my care and custody for the past few years, they have remained in a safe and secure location since my father's assassination, and my mother's death in 2006."
King was awarded the Nobel Peace Prize for his work toward nonviolent social change. He donated the $54,123 cash prize that came with the medal to the civil rights movement.
Bernice King said she found out about her brothers' plans to sell the medal and Bible on Jan. 20 as the family and the nation observed the annual national King holiday.
She said the lawsuit was filed in retaliation after she refused to immediately transfer the items to her brothers' control.
"In my opinion, there is no justification for selling either of these sacred items," she said. "They are priceless and should never be exchanged for money in the marketplace. While I love my brothers dearly, this latest decision by them is extremely troubling. Our father must be turning over in his grave."
The case is the latest in a long history of legal entanglements for the King family over MLK's words and image.
Legendary entertainer and close family friend Harry Belafonte sued the surviving King children on Oct. 15, 2013, over three King documents that were in his personal collection of historic memorabilia.
One of the documents is a three-page outline for King's 1967 speech "The Casualties of the War in Vietnam," written on a legal pad in Belafonte's New York apartment.