Railroads' role in the African-American experience explored
2/7/2014, 6 a.m.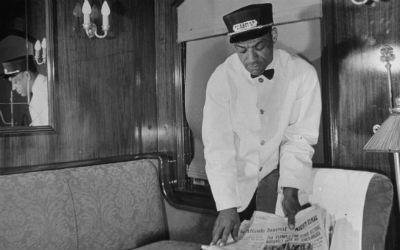 Law professor Anthony V. Baker will speak at "The Enduring Chronicle: Civil Rights and the Railroads" on Feb. 15 at the National Archives at Atlanta.
The 9:30 a.m.-to-3:30 p.m. program is free and limited to the first 200 guests to register.
Baker, a professor at John Marshall Law School, will give the keynote address – "What's 'Wrong' With Civil Rights."
Highlights of the symposium include railroad illustrator Robert West speaking on "The Pullman Porter African-American Experience on the Railroad"; records at the National Archives pertaining to civil rights issues and the railroad; and the story of the Gandy Dancers tradition.
Pre-registration is required by emailing ancestryatl@gmail.com.
Joel Walker, the National Archives education specialist, said the annual event has wide-range appeal.
"The symposium will be of interest to scholars of late 19th and 20th century African-American history as well as members of the general public who desire a deeper and broader understanding of the American story," Walker said.
The program features the story of Sallie Robinson and her attempts to ride in a first-class passenger car along the Memphis and Charleston Railroad in 1879. Her journey will take her all the way to the U.S. Supreme Court in 1883.
It also spotlights the impact of the Brotherhood of Sleeping Car Porters on the civil rights movement of the mid-20th century. West, living historian and painter, brings this important but often forgotten component of the long struggle to life with his portrayal of the train porter and the veiled effect the porter had on driving the fight for better economic and social opportunities during the years of segregation.

The symposium is presented in partnership with the Metro Atlanta Chapter of the Afro-American Historical and Genealogical Society.
The National Archives at Atlanta is a center for the study of the history of the South. It has about 180,000 cubic feet of archival holdings dating from 1716 to the 1980s.
It is at 5780 Jonesboro Road in Morrow. For more information, visit www.archive.gov/Atlanta and www.aahgsatl.org or call 770-968-2530.