DeKalb schools, government offices closed Tuesday ahead of forecast winter storm
Ken Watts | 2/10/2014, 2:35 p.m.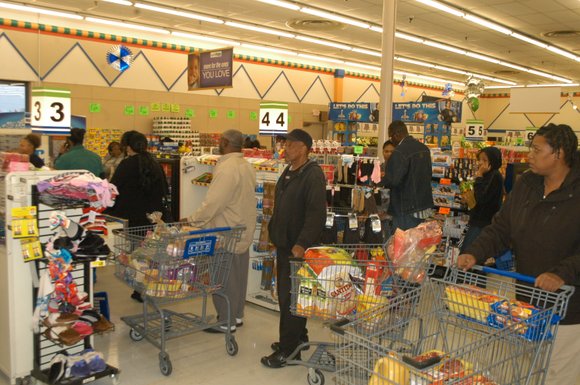 DeKalb County schools, government, organizations and residents are bracing for a forecast wintry mix of ice and snow Tuesday and Wednesday with closures and cancellations.
DeKalb Schools are closed Tuesday for all 99,7000 students and staff, and DeKalb Government has closed its administrative offices. Monday afternoon it called 150,000 residents with a lengthy "red alert" robo call advising them to stay off the roads.
Business was brisk at area supermarket as families stocked up on groceries.
Governor Nathan Deals also declared a state of emergency for metro-Atlanta and 31 other counties.
With fresh memories of the Jan. 28 snow storm that trapped motorists on the interstates for up to 16 hours and some students at the schools overnight, metro-Atlanta leaders are not taking any chances.
At an afternoon news conference, Deal encouraged residents in the storm's path to "be off the road by early evening" Monday as transportation crews prepare the roads. Deal also asked tractor-trailers, which clogged interstates in the last storm to steer clear of I-285.
The National Weather Service issued a winter storm warning for the Atlanta's northern suburbs effective from 7 p.m. Monday through 7 p.m. Tuesday.
The warning, posted for Cherokee, Forsyth, Hall, Banks, Jackson, Murray, Fannin, Gilmer, Union, Towns, Pickens, Dawson, Lumpkin and White counties, is calling for snow accumulations of 1 to 3 inches.
DeKalb School District spokesman Quinn Hudson said All After-School Extended Day Programs and tutorials dismissed at their normal times for Monday, Feb 10 all classes in the DeKalb County Schools will be closed Tuesday, Feb. 11. and all district employees are not to report to work.
Students can stay engaged with their courses and homework through online tools at dekalb.k12.ga.us/.

Hudson said they want parents to be aware that Instructional resources are available to all students, teachers, parents, and adult guardians.
"The goal is to ensure our students have access to instructional resources and online tools during the inclement weather."
Late Monday morning, the governor declared a state of emergency in 14 counties and broadened it to 31 more counties, including DeKalb, Cobb, Fulton, Gwinnett, Carroll, Douglas, DeKalb and Clarke counties.
Deal convened his emergency response team Monday, including executives from hospitals and utility companies. He said he was particularly worried about the "devastating" impact of ice dragging down power lines.
DeKalb Roads and Drainage crews were busy Monday at headquarters on Camp Road in Decatur preparing a salt mixture for the county's spreader trucks which will prepare the roads around emergency facilities, bridges and overpasses and major corridors ahead of the storm.