'Catastrophic' ice storm blows through metro area and rest of the South
2/12/2014, 2:50 p.m.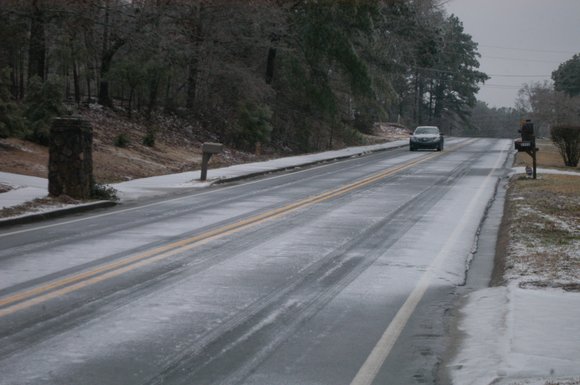 A winter storm dumped snow and ice on DeKalb and the rest of metro Atlanta late Tuesday and into Wednesday afternoon knocking out power to more than 200,000 customers, shutting down businesses and forcing most commuters to stay home. Ice slick roads made driving treacherous and snarled traffic for those who had to venture out but many took the advice of safety officials and stayed off the streets.
Forecasters say there's more of the wintry mix to come, and temperatures that dropped below freezing before daybreak won't climb back above 32 degrees until Thursday afternoon.
The National Weather Service on Tuesday used words like "catastrophic" and "crippling" to describe this storm which could dump up to an inch of ice on metro Atlanta south of I-20.
More than 168,000 Georgia Power customers had lost electricity by 1 p.m. Wednesday, with service already being restored to some 48,000 of those customers.
An additional 60,000 customers of the state's electric membership cooperatives had also lost power by early afternoon, as trees and powerlines, made heavier with thick coatings of ice, came crashing down.
At least one person was injured. A tree crashed through the roof of a house on Martha Avenue in northeast Atlanta around 5 a.m., injuring an 88-year-old woman who lived there with her grandson. The woman was taken to Grady Memorial Hospital for treatment of a gash over her eye.
Georgia Gov. Nathan Deal declared a state of emergency Monday and expanded it to cover 91 counties by Tuesday. President Obama joined in declaring an emergency in the state Tuesday.
"My primary request to the president was for generators in the case of power outages," Deal said in a statement. "The federal declaration makes those available, but it also allows us to ask for other supplies, such as food, blankets and commodities, as needs develop."
The potential for continued power disruptions is large, officials said, as a quarter to three-quarters of an inch of ice is expected to coat the area in and around metropolitan Atlanta.
"This is one of Mother Nature's worst kinds of storms that can be inflicted on the South," Deal told reporters Tuesday afternoon. "That is ice. It is our biggest enemy."