African-American life during the Civil War on display in photo exhibit
2/14/2014, 6 a.m.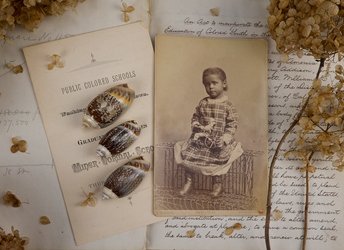 A photographic exhibit, inspired by "Native Guard," a Civil War poem written by U.S. Poet Laureate Natasha Trethewey is on display this month at Emory University's Schwartz Center for the Performing Arts.
"What Must Be Remembered," offers vignettes of Civil War-era materials from Emory's Manuscript, Archives, and Rare Book Library.
The five-peice compositions reflect on aspects of African-American life during the war, including womanhood, manhood, labor and commerce, childhood and education, and life as a soldier. They are created using photographs, letters, journals and other ephemera and books drawn from several collections at MARBL, including its Civil War collections and the Robert Langmuir African American Photograph Collection.
The compositions are accompanied by quotes from African-American civil and human rights advocates Sarah Parker Remond (1826-1894), Frederick Douglass (1818-1895), John Mercer Langston (1829-1897), William H. Crogman (1841-1931), and Anna Julia Cooper (1858-1964).
Trethewey, the current two-term U.S. poet laureate, is director of Emory's creative writing program. "Native Guard" begins with an epigraph by abolitionist Frederick Douglass: "If this war is to be forgotten, then I ask in the name of all things sacred what shall men remember?"
The exhibit's co-curators are Pellom McDaniels III, MARBL's African American Collections faculty curator and Emory associate professor of African American Studies, and Paige Knight, Emory Libraries archival photographer and digital photography coordinator.
Knight created the compositions using MARBL materials selected by McDaniels as well as shells, dried flowers, old pocket watches, and 19th-century clay marbles.
The Schwartz Center for the Performing Arts is at 1700 N. Decatur Road. For more information, visit http://marbl.library.emory.edu.