Five plead guilty in $1.7 million theft racketeering scheme
Ken Watts | 2/14/2014, 6:30 a.m.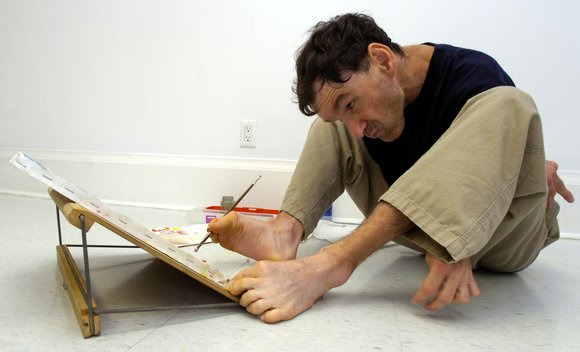 Five of six co-defendants accused of stealing $1.68 million from the disabled Mouth and Foot Painting Artists are going to jail for five to 20 years and must pay nearly $603,000 in restitution.


Christina Kelly; her daughters Tyleshia Avant and Kiante Smith; and Tujuana Ross and her former husband Rory Ross pleaded guilty on Feb. 10 and were sentenced by DeKalb Superior Court Judge Daniel Coursey for stealing the money from the disabled artists who paint with their mouths or feet because they are unable to use their hands due to an illness or birth defect.
The case was dismissed against the sixth defendant, Glenn Kelly, who is Christina Kelly's former husband.
Prosecutors said Kelly and Tujuana Ross, while working at a local MFPA office, developed a scheme to deposit thousands of MFPA checks into a fraudulent bank account from which they wrote checks to themselves and the other defendants, and used debit cards connected to the account for their own benefit.
A DeKalb grand jury indicted them May 23, 2013 under the Georgia Racketeering Influenced and Corrupt Organization Act.
Kelly and Tujuana Ross were each sentenced to 20 years. Rory Ross got 20 years of probation; and Smith and Avant, 15 years of probation.
Kelly will be required to serve seven years behind bars and pay $250,000 in restitution. Tujuana Ross will be required to serve five years behind bars and pay $176,953.50 in restitution.
Rory Ross was ordered to pay $50,000 in restitution. Smith and Avant were ordered to pay $103,195 and $22,680 in restitution respectively.

District Attorney Robert James said they had no regard for their victims.
"These individuals worked over the course of five years to manipulate and siphon a considerable amount of funds from the MFPA without any regard for the individuals and families affected by their criminal acts," James said.
The for-profit MFPA association is owned and operated by disabled artists globally. The artists create cards, calendars, books and other holiday gifts which they send to prospective donors for monetary donations.
MFPA receives donations in unpredictable amounts and the checks, which are mailed to MFPA, are sorted and placed into the organization's bank account for the benefit of the disabled artists.
The indictment said that Christina Kelly worked as a seasonal employee for MFPA beginning in 2002, and that at some point prior to 2006, opened a checking account at Main Street Bank in the name of 'C. Kelly DBA MFPA' and started stealing the MFPA checks from its offices and depositing them to the fraudulent MFPA account.
Tujuana Ross, who was a full-time employee, joined the scheme in 2006, stealing and delivering the checks to C. Kelly. In return C. Kelly wrote checks to Ross from the fraudulent acccount.
She also wrote checks to Kiante Smith, her daughter who was an MFPA seasonal employee; Tyleshia Avant, her daughter and seasonal employee; Rory Ross, former husband of Tujuana Ross; and Glenn Kelly, her former husband.
Glenn Kelly was not present at the sentencing hearing. DeKalb District Attorney spokesman Erik Burton said his case was dismissed. James said the crime came to light because of the diligence and awareness of a MFPA donor.
"We are pleased that this case has been resolved and that the artists of MFPA will be able to recover a considerable amount of the stolen funds," he said.