Winter storm leaves power outages, slush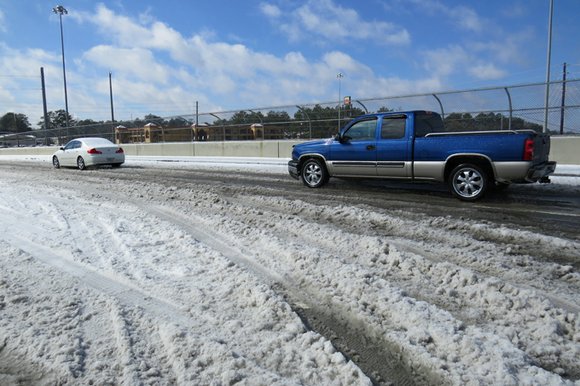 Mother Nature threw her icy arsenal at metro Atlanta this week, shutting down schools and governments, and paralyzing business, commerce and social life for three days.
The Feb. 11-12 "catastrophic" winter storm dumped sleet and ice overnight Tuesday and by late Wednesday evening began coating the ice covered roads and trees with fluffy white snow.
The storm knocked out electricity to more than 764,000 people statewide as ice-coated power lines and trees snapped.
Across the area, Atlantans scraped grocery shelves clean of milk, eggs and other essentials. There was also a run on batteries, generators and snow cleaning materials.
More than 830 flights were canceled at Hartsfield-Jackson Airport.
DeKalb Schools remained closed Friday for a total of four days.

Ice slick roads made driving treacherous but most residents took the advice of officials and stayed off the streets.
Families woke up Thursday morning to a bright white winter wonderland that began melting by noon as the sun came out and temperatures warmed up into the 40s.
"The sun appears to be trying to shine on us," Gov. Nathan Deal said with a smile at a noon press briefing on Thursday.
He said the effects of the storm were not nearly as dramatic and traumatic as it should have been.
"We think the human response has been remarkable," he said. "We feel good about what we have done. It's been the cooperation that has made the difference."
Deal praised metro-Atlantans for staying off the highways and said that this time the state's response worked well.
"For someone sitting at home with no power that is a bad place," he said, adding that every effort was being made to restore electricty to those who lost it.
By late Thursday, the state's electric providers said that 505,000 customers who had lost power were restored, but 254,471 customers were still without electricity.
Georgia Power, the state's largest single provider, said 150,724 of its customers still had no electricity. Another 103,747 customers, served by the 41 members of the Georgia Electric Membership Corp. were also without power.
On Monday ahead of the storm, Deal declared a state of emergency for 91 counties.
On Thursday, he extended it to Sunday to enable the state to deal with debris removal and the storm's aftereffects and to enable the state to share costs with the federal government.
On the storm's march down I-20, Deal said the storm had knocked out electricity to most of the residents in Augusta, more the state's hardest hit area.
Thursday's warmer temperatures turned the ice and snow into slush, but it was expected to refreeze overnight as temperatures dipped.
"The roads are still dangerous," Deal warned, encouraging Atlantans to stay put if they could for another day.
State Public Health Direcor Brenda Fitzpatrick encouraged residents who had power outages of more than four hours to throw out the food in their refrigerators.
"We don't want to come out of this and be dealing with food poisoning," she said.
For residents using space heaters and ovens to keep warm, Fitzpatrick said they should be aware of the dangers of carbon monoxide posioning, which is both colorless and odorless.
The Feb. 11 and 12 winter storm was the second to hit the area in two weeks.
The Jan. 28 snow storm that dumped 2.5 inches of snow on metro-Atlanta trapped hundreds of commuters on the area interstates and students in their schools' gyms.
DeKalb Government which was closed Tuesday, Wednesday and Thursday reopened Friday and resumed garbage collections. It said residential and business customers with Tuesday scheduled collection will be picked up Feb. 14; Thursday pickups will be collected Feb. 15; and Friday collection will be picked up on Feb. 16. Yard trimmings and recycling collections will resume next week.
The National Weather Service is forecasting temperatures in the 50s for Saturday and Sunday. It is expected to be sunny during the days and partly cloudy with low 30s both nights.