Barnes Sutton pushing on after dispute with longtime boyfriend
2/21/2014, 6:25 a.m.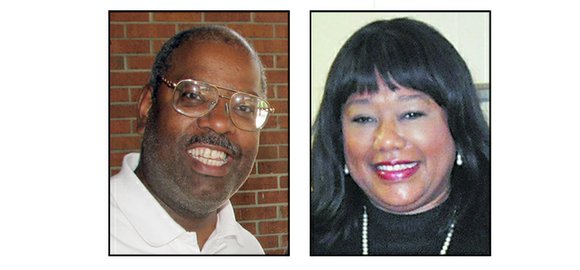 DeKalb Commissioner Sharon Barnes Sutton returned to work at the Board of Commissioners on Tuesday with her left foot in an orthopedic boot after a week's medical leave.
Barnes Sutton, who represents Commission District 4 in Stone Mountain, said she broke her left toe during a Feb. 12 domestic dispute with her longtime boyfriend and campaign manager Warren Mosby that prompted a 911 call.
Ten police officers, including the DeKalb Police domestic violence unit, a major, a captain and two lieutenants, assisted in the investigation.
The Feb. 11 police reports made at 3:36 p.m. said Sutton got into an argument with Mosby when she found another woman's car parked in the driveway of his home on Habersham Drive in Decatur.
Two separate police reports were filed for the incident. Both call the commissioner Sutton-Barnes, instead of Barnes Sutton, her correct name.
One report written by Officer T. Barnes lists Barnes Sutton as the complainant.
A second report written by Officer QD Lloyd lists Mosby as the victim and Barnes Sutton as the offender. Both reports list pending charges as simple assault and simple battery.
Barnes Sutton told Officer Barnes that she was at Mosby's home because he had agreed to assist her with getting kerosene for her heater.
When she arrived at the house, she said she tried to reach Mosby by cell phone and by knocking on his door without response.
When Mosby finally came to the door, Barnes Sutton said he stated that he was in a meeting with "Doreen Carter, an acquaintance known to Ms. Sutton-Barnes.
"She stated they had an argument over his meeting with Mrs. Carter," the report said.
During a scuffle, Barnes Sutton said that "Mosby pushed her down onto the driveway and threw her against the car as she was trying to run."
"She stated that Mr. Mosby grabbed her and she reached for his glasses during the incident," the report said. "She stated that Mr. Mosby put his knee in her chest below her throat. She stated that she could barely breathe and could not get up from his restraints. … She advised that there had been other incidents where she was assaulted by Mr. Mosby. … She advised at the time she could not breathe and her left ankle was hurting."
Barnes Sutton, who hosted her second annual American Heart Month Red Fashion for county employees on Feb. 19, said she was pushing ahead.
"I just decided I need to get back to work," she said. "I am pushing forward. I am serving my constituents."

In Mosby's report to Officer Lloyd, Mosby said that Barnes Sutton knocked on his door saying she wanted to speak to his female friend, witness Doreen Carter, who was visiting.
He told the officer that he exited out of the side door of his house, leaving Carter inside, and spoke with Barnes Sutton.
"Mr. Mosby said stated that Ms Sutton Barnes became upset he had a female visitor and began trying to enter his home, trying to force herself past him into the home," the report said. "He blocked the entrance to the door by standing in the doorway. He stated that Ms Sutton-Barnes continued to be aggressive and began to hit him in the chest with her fist."