Families push for trial in crash involving cop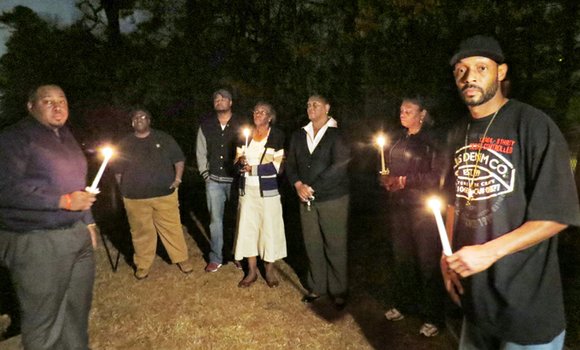 Three years after DeKalb Police Officer Kristina Hambie slammed into a white Nissan Ultima carrying Shelley Scott Amos and Cheryl Blount Burton, family and friends are still waiting for justice.

The best friends of more than 20 years died in the mangled wreckage on Feb. 19, 2011, at the intersection of Covington Highway and Kensington Road in Decatur. They had just left an Avondale Estates thrift store where they had been shopping. Amos, who lived in Decatur, was 56. Burton, 51, lived in Stone Mountain.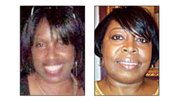 Amos, who was in the front passenger seat, had to be cut from the wreckage.
The coroner's report said that every bone in her body was broken and that she died instantly.
Hambie, then 25 years old, was a three-year DeKalb police officer.

She was on duty at the time of the accident, but her Sept. 29, 2011, indictment said that she was not on an emergency call and did not have her blue lights on when she slammed into the women's car.

When Amos' son, Devron Cunningham, saw the violent wreckage, he knew his mother and Burton didn't stand a chance.
"The car looked like you had stepped on a soda can," he said.
The first police report said the women's car had run the red light, but the crash scene told a different story.
"You could see where the impact occurred and how far the car was crushed and thrown," said attorney Robert Bozeman. "It ended up across the street on a pole. You could not throw a car that far at 35 miles per hour."
After reconstructing the accident scene, experts hired by his Decatur law firm Davis Bozeman disagreed with the police report of the accident.
He asked for the police cruiser's black box.
DeKalb County, claiming it is part of an ongoing investigation, never released its content, but it settled the case in June 2011 for the maximum insurance benefit and fired Hambie.
On Sept. 29, 2011, a DeKalb grand jury indicted Hambie on two counts of vehicular homicide in the first degree, reckless driving, and violation of oath by a public officer.
The indictment said that Hambie was traveling above the posted speed limit when her police cruiser slammed into the car driven by Burton as it pulled into the intersection of Covington Highway and Kensington Road.
She was arrested on Oct. 4, 2011, but wasn't arraigned until September 2013. She pleaded not guilty at her arraignment and was released on a $50,000 bond.
Since then, the families say nothing has happened with the case.
On Feb. 19, grandchildren, sisters, brothers, aunts and friends of the women journeyed from Augusta, Thomson, Riverdale, College Park and Covington to join Cunningham and Burton's son, Desmond Nicely, to light candles for the women at the site of the accident and press for a resolution to the criminal case against the former police officer.
Nicely said they have been waiting for a long time for the case to go to trial.