House bill seeks medal for Freedom Riders
2/21/2014, 6 a.m.
The Freedom Riders, who braved firebombs and violent beatings, could be honored by Congress if a bipartisan resolution by U.S. Reps. Hank Johnson and Doug Collins finds support.
Johnson, a Democrat and the 4th District representative, and Collins, a Republican who represents the 9th District in northeast Georgia, introduced a bipartisan resolution calling on Congress to award the Congressional Gold Medal to the Freedom Riders, who rode integrated buses throughout the South between May and November 1961.
More than 50 members of Congress from both sides of the aisle joined Johnson and Collins to co-sponsor the bill, H.R. 4041.
During the Freedom Rides, more than 400 black and white Americans risked their lives to challenge Jim Crow laws – in public transportation – in the South.
They braved vicious attacks and imprisonment for traveling together on buses and trains.
Johnson said the Freedom Riders challenged bitter racism and mob violence with nonviolent activism.
"Through their bravery, the Freedom Riders paved the way to full integration of public transportation," he said. "Their quiet bravery and unshakable resolve gave us the strength to fight for what was right, for justice, equality and for moral righteousness."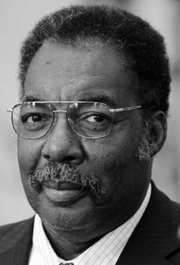 Hank Thomas of Atlanta, one of three original Freedom Riders, said the rides were a seminal event in the fight for equality and human dignity.
"I thank Congressman Hank Johnson and my friend, Andy Young, for their efforts to get us this recognition," he said.
Collins said it's a privilege to join Johnson in leading the effort for Congress to recognize the Freedom Riders.
"With their tested, tried, and yet unwavering dedication to peace, liberty, and justice – for all – the Freedom Riders brought people together amid division half a century ago," Collins said.
"It's a testament to their legacy that they still do today."
Andrew Young, a lieutenant of Dr. Martin Luther King Jr. during the civil rights movement, praised the congressmen and Thomas for their efforts to gain recognition for the Freedom Riders, whom he called American patriots.
"Black and white together, they sought to hold America to the true meaning of the Constitution," he said.
"As much as anyone, they risked their lives to defend the promise of America."
If approved by Congress, the Freedom Riders would receive the medal as a group and it would be displayed at the Smithsonian Museum.