Johnson kicking off re-election bid with open house on Feb. 22
2/21/2014, 6:30 a.m.
U.S. Rep. Hank Johnson is kicking off his re-election bid on Feb. 22 with the grand opening of his campaign headquarters in Lithonia. The office at 2853 Panola Road next door to This Is It restaurant opens officially at 11 a.m.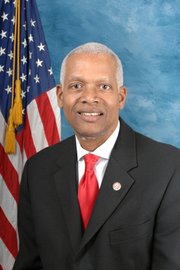 Johnson, who was elected in 2007, is running for his fifth term. He will face DeKalb Sheriff Thomas Brown in the May 20 Democratic primary.
Johnson says he will focus his campaign on economic issues facing families in the 4th District, which includes portions of DeKalb, Rockdale, Gwinnett and Newton counties.
He says he has made a difference in the lives of his constituents.
"Since 2007, I have helped bring more than $250 million home to the district for schools, roads and police," he said this week. "From my main district office in Lithonia, I have worked to help secure more than $30 million for constituents seeking help with specific federal agencies."
Johnson points to his close work with President Barack Obama on the Affordable Care Act and says he supports the president's call for raising the minimum wage to $10.10.