Legacy of Joe Louis on display at Emory
2/21/2014, 6 a.m.
The traveling exhibit "Joe Louis Barrow: A Life and Career in Context" is on display until April 1 at Emory University's Woodruff Library.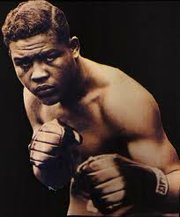 The exhibit on the life and legacy of the former world heavyweight champion is based on photographs, periodicals and archival materials from Emory's Manuscript, Archives, and Rare Book Library. It is located on Level 2 of the Woodruff Library and features large panels with text and images of Louis highlighting his childhood, his family's move to Detroit, his decision to turn professional, his key fights, and his years in the Army.
Joe Louis Barrow, who boxed under the name of Joe Louis, was born on May 13, 1914, in Chambers County, Ala. As his 100th birthday commemoration nears, the exhibit will travel this spring to his birthplace; his hometown of Detroit; and the cities that hosted his key bouts – Chicago and New York, before returning to Emory.
Louis is considered by many to be the first well-known African-American athlete. He was born the seventh of eight children to sharecropper parents who were the children of slaves. When he was about 12, his family moved to Detroit, part of the Great Migration of African-Americans from the rural South to urban life in the Northeast, Midwest and West.

Louis became interested in boxing while hanging out at a youth recreation center in Detroit. He made his professional debut in 1934 in Chicago and held the title of world heavyweight champion from 1937-1949, earning the nickname "The Brown Bomber." He retired in 1949, hanging up his gloves for good in 1951 with a record of 68-3. He was much admired for his clean image and gentle demeanor outside the ring during his career, but his retirement years were rocky. He died on April 12, 1981, at age 66.

The exhibit, which opened last November with the help of Louis' son, Joe Louis Barrow Jr., is part of Emory's Race and Sports in American Culture Series, a roster of events examining the intersection of race and sports throughout American history. The series was developed by Pellom McDaniels III, faculty curator of MARBL's African American Collections and assistant professor of African American Studies, and Dana White, senior faculty curator and professor emeritus of American Studies.

McDaniels and White created the traveling exhibit to bring awareness of MARBL's collecting focus on African-Americans in sports to different communities. They also hope to engage audiences that might not otherwise think of Emory as an accessible source for such materials.
McDaniels says he has found that many people have forgotten who Louis was or don't know about him – where he came from, what his life was like, or how his success impacted America and the rest of the world.

"Thinking in terms of the unintentional consequences of the First World War, the Great Migration and the interwar years, Louis' appeal to the black masses was significant because most shared similar roots – growing up in the South, sharecropping, migrating to a Northern city, finding opportunity and taking advantage of it," McDaniels said. "With his burgeoning success in the face of adversity, Louis became a Messiah type that converted the dreams of success for millions into reality in the boxing ring."
MARBL's materials on Joe Louis come from several collections, including books on Louis from the Billops-Hatch collection, photos from the Langmuir African-American photograph collection, fight programs from the overall African-American collection, and broadsides from films in which Louis appeared as a boxer from the black cinema collection.
The Robert W. Woodruff Library is at 540 Asbury Circle in Atlanta. Parking is available in the Fishburne deck.

For more information, contact Julie Braun at jkbraun@emory.edu.