Qualifying begins March 3 for special election, other contests
2/21/2014, 7:15 a.m.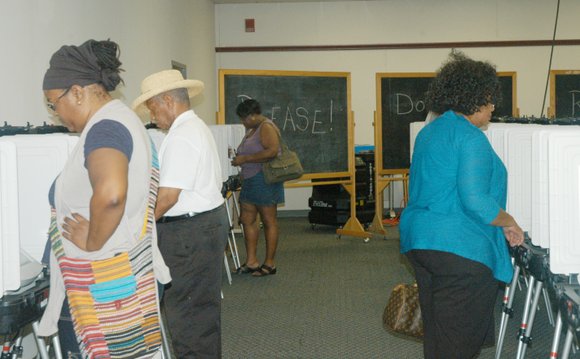 Qualifying for the DeKalb sheriff special election and the general primary and nonpartisan elections takes place March 3-7.
Seven candidates – DeKalb Sheriff's Deputy Chief Jeffrey Mann, retired DeKalb Sheriff's Deputy Dale Bernard Collins, DeKalb Police Sgt. Romaldo Tony Hughes, Atlanta Police Sgt. Melvin Mitchell, former Georgia Piedmont Technical College Assistant Police Chief Melody Maddox, former DeKalb CEO Vernon Jones and law enforcement veteran LaSalle Smith – already have announced their intention to run for sheriff. The office is being vacated by Sheriff Thomas Brown on Feb. 28. Brown is challenging U.S. Rep. Hank Johnson for the 4th District seat.
The special election for sheriff will be held in conjunction with the May 20 primary and nonpartisan elections. Qualifying starts at 9 a.m. on March 3 and ends at noon on March 7. Fees range from $400 for state representatives and senators to $5,220 for U.S. representatives.
All state House and Senate seats are up for re-election. Three county commissioners – Jeff Radar, District 2; Larry Johnson, District 3; and Stan Watson, Super District 7 – are up for re-election this year. Candidates for state office and county commission will qualify with their respective party.

The DeKalb Democratic Party will be qualifying at 3203 Glenwood Road in Decatur. The DeKalb Republican Party will be qualifying at 1532 Dunwoody Village Parkway, Suite 100, in Dunwoody.
Superior Court Judges Dan Coursey, Asha Jackson and Courney Johnson are up for re-election. They will qualify with the Secretary of State's Office, 200 Piedmont Ave. S.E., Suite 1402 – West Tower, in Atlanta.
On the State Court bench, Judges Johnny Panos and Al Wong are up for re-election.Candidates for State Court judges, School Board and sheriff will qualify at the DeKalb Voter Registration & Elections Department, 4380 Memorial Drive, Suite 300, in Decatur. For more information, visit dekalbvotes.com or call 404-298-4020.