'Ray,' 'Cadillac Records' showcase legendary performers
2/21/2014, 6 a.m.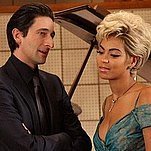 The biopic "Ray" starring Oscar winner Jamie Foxx and the musical drama "Cadillac Records" featuring Adrien Brody and Beyoncé Knowles will be screened on Feb. 26 at two library branches in Decatur.
"Ray," also starring Kerry Washington and Regina King, will be shown at 2 p.m. at the Scott Candler Library.
The 2004 film follows the life and career of the legendary rhythm and blues musician Ray Charles (1930-2004) from his humble beginnings in the South, where he went blind at age 7, to his meteoric rise to stardom during the 1950s and 1960s as well as his battle with drug addiction.
The PG-13 film, which runs 152 minutes, is directed by Taylor Hackford.
2014 marks the 10th anniversary of the death of the Georgia native. Foxx won a Best Actor Oscar for his portrayal of the singer/songwriter and composer. The film also won an Academy Award for Best Achievement in Sound Mixing.
Scott Candler Library is at 1917 Candler Road. For more information, visit www.dekalblibrary.org or call 404-286-6986.
"Cadillac Records," which also stars Cedric the Entertainer, Emmanuelle Chriqui, Gabrielle Union, Mos Def and Jeffrey Wright, will be screened at 2 p.m. at the Flat Shoals Library.
The 2008 film chronicles the compelling true story of the Chicago record label, Chess Records, that helped the world discover such legendary artists as Muddy Waters, Howlin' Wolf, Little Walter, and Chuck Berry in the 1940s and '50s. Brody plays record producer Leonard Chess and Beyoncé portrays troubled singer Etta James. The label was nicknamed "Cadillac Records" because its artists were given Caddies as rewards – out of the artists' own royalties.
It is directed by TV veteran Darnell Martin.
The film is rated R and runs 109 minutes. It is open to the first 25 participants. Funding is provided by the Friends of the Flat Shoals Library.
The library is at 4022 Flat Shoals Parkway. For more information, visit www.dekalblibrary.org or call 404-244-4370.