Swimmer makes waves at state meet
2/21/2014, 6 a.m.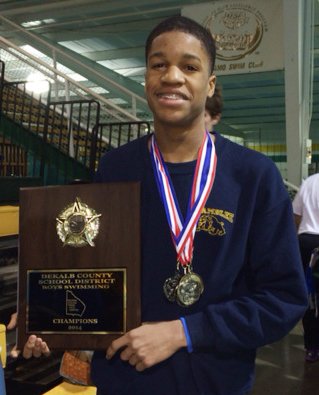 Chamblee Charter High junior Jacob Jordan is making waves in competitive swimming.
Jacob, a member of the Swim and Dive Team, made a Junior National time of 21.59 in the 50 freestyle at the GHSA Swim 1-5A State Swimming and Diving Meet held Feb. 6-8 at Georgia Tech. He placed first in the 50 freestyle at the DeKalb County meet held at the Dynamo Aquatic Center on Jan. 25.
The year-round swimmer who has competed since age 7 takes it all in stride.
"I've been swimming and training for so many years and I'm extremely happy to see that all the hard work is paying off," he said.
Jacob, who lives in the Brook Glen subdivision in Decatur, began swimming in his subdivision at the South DeKalb Y. He helped his team place first at the county meet in the 4x100 freestyle and the 4x100 medley relays. The Chamblee High boys team placed first in the county for the second time, beating out their longtime rival, Lakeside High.
At the GHSA state meet, Jacob anchored the 4x100 free relay to medal for third place and finished 12th in the 100-yard breaststroke.
The Chamblee boys came in fourth in the state.
"I was absolutely thrilled when he reached his swim goal but not shocked," says his mother, Carol Jordan, a 24-year resident of South DeKalb."Since Jacob was very little, he has always strived to be the best at whatever he does."

Jacob is not only an accomplished swimmer but an excellent student as well.
As an aspiring doctor, the magnet student maintains a 4.184 grade-point average, holds the office of vice president of his junior class, and was recently elected treasurer of the National Honors Society.
The Junior National Competition will take place March 18-23 in Orlando, Fla.