100 at GPC to be tested for exposure to tuberculosis
2/28/2014, 6 a.m.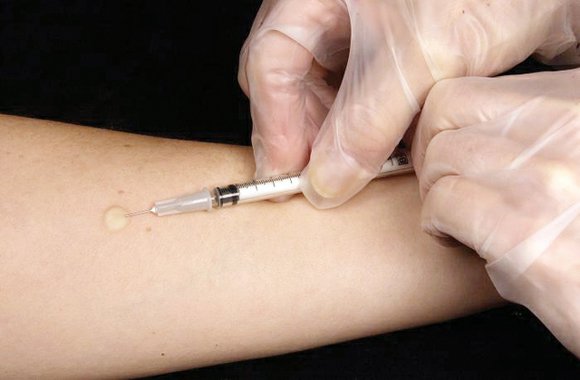 Just over 100 students, faculty and staff at Georgia Perimeter College will be taking a test for exposure to tuberculosis on March 4.
College and DeKalb health officials said that they might have come into contact with a person who tested positive for tuberculosis, a bacterial infectious disease that typically attacks the lungs, but also can affect other parts of the body.
Dr. Vincent June, vice president of Student Affairs, said in a Feb. 25 email that the DeKalb Board of Health informed the college earlier in February that the exposed person was on the Clarkston campus and may have come in contact with others.
"Georgia Perimeter College then followed standard protocol and gave the health department a list of people [faculty, staff and students] who may have come in contact with the identified person. The health department then provided our college a letter and fact sheet about tuberculosis to send out to everyone on that list," June said.
"Those items were put into the mail Feb. 20."
The CDC says TB is spread when people who have an active infection cough, sneeze, or otherwise transmit respiratory fluids through the air.
Most infections do not have symptoms, known as latent tuberculosis. About one in 10 latent infections eventually progress to active disease which, if left untreated, kills more than 50 percent of those infected.
The classic symptoms of active TB infection are a chronic cough with blood-tinged sputum, fever, night sweats, and weight loss.
In the letter, the health department requests that recipients receive a skin test, either from their primary care providers or from the DeKalb Board of Health.
Tuesday's testing on the Clarkston campus is free of charge. The Board of Health says it will return March 6 to offer follow-up readings for those tested. The board expects to test 100 to 112 people.
Board of Health spokeswoman Vickie Elisa said the March 6 readings might not be the definitive results.

"TB investigations, depending upon the numbers of individuals involved, can often take 60 to 90 days to review all charts, data and medical records." she said. "Some may require additional follow-up, which is part of the investigation."
Elisa said the board cannot release the infected person's name or occupation.
The Centers for Disease Control and Prevention says a TB skin test, also called the Mantoux tuberculin skin test, is performed by injecting a small amount of tuberculin fluid into the skin in the lower part of the arm. A person given the tuberculin skin test must return within 48 to 72 hours to have a trained health care worker look for a reaction on the arm.
The health care worker will look for a raised, hard area or swelling. If present, they will measure its size using a ruler. Redness by itself is not considered part of the reaction.
A positive skin test means the person's body was infected with TB bacteria.
Additional tests are needed to determine if the person has latent TB infection or TB disease.
The board says TB testing in an urban, culturally diverse county such as DeKalb is routine and reflects the same rate and pattern as other major urban cities in the United States.

Most importantly, it says, you can have TB exposure but not TB disease.