Jackson, Miss., mayor remembered as a black nationalist
2/28/2014, 3:15 p.m.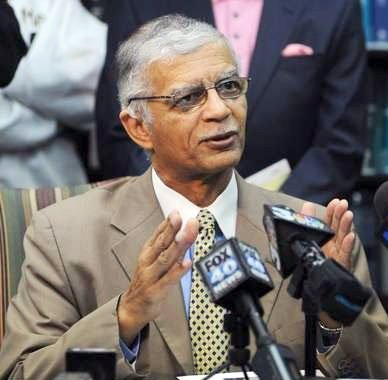 Chokwe Lumumba, noted human rights and civil rights attorney, activist and mayor of Jackson, Miss., died unexpectedly on Feb. 25 of a heart attack.
Lumumba, 66, had many friends and strong ties to Atlanta through the Malcolm X Grassroots Movement, which he co-founded, and his representation of the late hip-hop artist Tupac Shakur, who has a center named for him in Stone Mountain.
A black nationalist, Lumumba helped launch the Republic of New Afrika in 1970s and early 1980s that advocated "an independent predominantly black government" in the southeastern United States.
The group also advocated reparations for slavery and was on the FBI counterintelligence watch list.
Lumumba served four years on the Jackson City Council before he was elected mayor of Mississippi's largest city in May 2013.
During his mayoral election campaign last year, he said the Republic of New Afrika was miscast as racist.
"It was a group which was fighting for human rights for black people in this country and at the same time supporting the human rights around the globe," he said in news reports.
Lumumba took office in July pledging to redevelop the aging infrastructure of the predominantly black city and attract economic development. He also invited people to move to Jackson, like they did in Atlanta in the 1980s and 1990s to help in its development.
One of his triumphs as mayor came just last month, when voters approved a 1 percent sales tax increase with 90 percent of the vote. Revenues from the tax, which goes into effect March 1, will overhaul Jackson's aging water and sewerage system and streets.
Lithonia Mayor Deborah Jackson, who knew Lumumba for more than 30 years, said Thursday that his sudden death is still quite surreal.
"I just talked with him a couple of weeks ago about setting up a sister city program with us," she said.
Jackson, also an attorney, said she met Lumumba as a young lawyer in the National Conference of Black Lawyers and over the years worked with him on some cases.
She called his death tragic.
"It's a loss not only for the political community, but for the human rights community and the legal community. He was an amazing lawyer."
Jackson said Lumumba built a strong grass-root organization before going into office because he understood that politics is about the people.
"A tribute to his legacy is to continue the work he started," she said. "My hope is that the seeds he was able to plant will take root."
Lumumba was born in Detroit as Edwin Taliaferro. He changed his name in 1969 when he was in his early 20s. He said he took his new first name from an African tribe that resisted slavery centuries ago and his last name from African independence leader Patrice Lumumba. He moved to Jackson in 1971 as a human rights activist, went to law school in Michigan in the mid-1970s, and returned to Jackson in 1988.
As an attorney, he represented Tupac Shakur in several cases, including one in which the rapper was cleared of aggravated assault charges in the shootings of two out-of-town off-duty police officers who were visiting Atlanta.
Lumumba also represented Shakur's aunt and former Black Panther heroine, Assata Shakur, in 1977 in a murder case that was dismissed in New York.

In 2011, he persuaded then-Mississippi Gov. Haley Barbour to release Jamie and Gladys Scott from prison. The sisters served nearly 16 years for an armed robbery they said they didn't commit.
Akinyele Umoja, a friend and fellow black nationalist, said that Lumumba ran on the slogan that "The People Shall Decide." He believed the people of Jackson will continue to work on the initiatives that Lumumba embraced because they helped formalize them.
"There was a lot of enthusiasm around his election and I believe they will continue to work on the agenda," he said.
Umoja, who chairs the Georgia State University African American Studies Department, said Lumumba was totally committed to his people and listened to everybody and held People's Assembly for them to offer input.
"He was somebody who loved black people, and people in general," Umoja said. "We will continue to work on what he was trying to do."
A large contingent from Atlanta is expected to go to Jackson for the homegoing service. Funeral arrangements were not complete at press time Thursday.