Lithonia's quest for National Historic designation draws closer
Ken Watts | 2/28/2014, 6 a.m.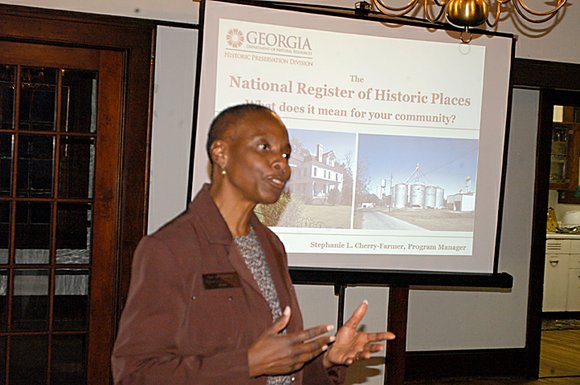 The city of Lithonia's history as a crossroads town and provider of the unique gneiss granite that helped build New York's Holland and Lincoln tunnels, construct buildings at the U.S. Military Academy at West Point, and pave the streets of many Northern cities is close to making it onto the National Register of Historic Places.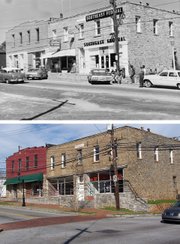 On Feb. 28, Georgia's Historic Preservation Division, which has nominated the city for the honor, sent Lithonia's application to the National Park Service in Washington, which will make the decision.
At a Feb. 19 public briefing at the Lithonia Woman's Club, Mayor Deborah Jackson said the city has a strong case.
"This is really the culmination of a longtime effort by many partners working with the city to get to this point," Jackson said.
Since 2003, the city's application for historic status has started and stopped several times. Jackson, who was elected mayor in 2011, has been helping shepherd it to fruition.
She said the nomination is an exciting development.
"We know that this type of nomination can contribute to our efforts to build an economic development program based around cultural and heritage tourism, so we're very excited," she said.
Stephanie Cherry-Farmer, the Historic Preservation Division's national register and survey program manager, said historic designation could have an immediate positive impact on Lithonia's commercial and residential property owners.
"For property owners, it means that they are going to have tax incentives for rehab of residential and commercial properties," she said. "So there will be a nice financial incentive for people to invest in Lithonia and there will also be a document that talks about why Lithonia is significant in history."
Cherry-Farmer said the city and the Arabia Mountain Heritage officials did a good job of compiling historical data about Lithonia.
"Lithonia is significant because it is a specific type of Georgia town called a 'crossroads with a railroad community.' "
The Western-Atlantic Railroad arrived in Lithonia in 1845 and made the city one of the centers of commerce in DeKalb County at that time. By 1879, the stone quarry industry had established itself in the area.
Lithonia became one of the most important suppliers of gneiss, a type of granite with distinctive dark swirl patterns and a crystalline sparkle favored by builders in the 19th century and mid-20th century.
Lithonia gneiss was used to construct buildings and pave and curb streets all over the country.
Cherry-Farmer said that the Rayburn House Office Building on Capitol Hill in Washington used Lithonia gneiss.
"Blocks of Lithonia gneiss were used to build the roadways in New York's Holland and Lincoln tunnels. And street paving projects in Cincinnati, Philadelphia, New York, Baltimore, Savannah and St. Louis used it," she said. "Many buildings at the U.S. Military Academy at West Point are built of Lithonia gneiss. So are the University of Georgia Library in Athens and the Federal Reserve Building in Atlanta."
Lithonia is part of the Arabia Mountain Heritage Area that includes Arabia Mountain, Panola Mountain State Park, the Flat Rock Community and the Monastery of the Holy Spirit in Conyers connected by a network of paved bike-jog trails.
Jackson said the city is already discussing ways to use those resources and its history to encourage tourists to linger awhile.
"We are exploring some ideas including a bike share in the heritage area," she said. "And we're looking at ways to get people out here and facilitate their ability to get around once they're here."
National historic recognition could lift the spirits of the 0.8-square-mile city, long under siege from blight, poverty and economic stagnation that grew worse with the recent economic recession.
Mira Cardenas, the Arabia Mountain Heritage Alliance executive director, helped the city develop its application.
"Sometimes we take our history for granted," she said. "We don't see what makes us unique and significant. But when someone else looks at your community and says its history is significant, that can carry a lot of weight."
Vanneriah Hawk Wynn, a 25-year Lithonia resident, said that honoring the community's past could help move it forward.
"I hope it brings growth, revitalization and a new attitude toward the city and a new attitude toward coming together as a community," she said.