Mann sworn in as DeKalb Interim Sheriff
2/28/2014, 5:27 p.m.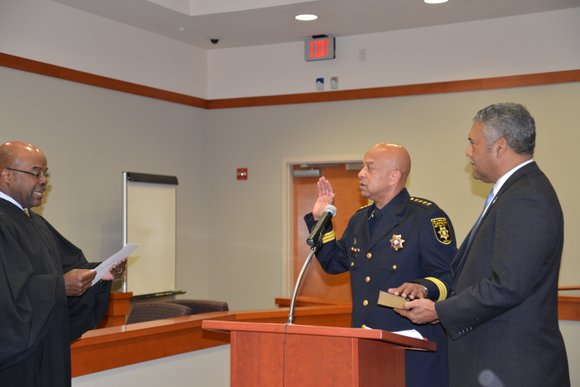 Chief Deputy Jeffrey Mann took the oath of office as DeKalb's Interim Sheriff Feb. 28 before a crowd of about 40 friends, relatives and colleagues at the DeKalb County Courthouse in Decatur.
Superior Court Judge Gregory Adams administered the oath as outgoing Sheriff Thomas Brown held the bible for Mann.
Brown left the Sheriff's Office Friday after nearly 14 years of service to run for the 4th District congressional seat held by incumbent Democrat Hank Johnson.
Mann is a former assistant County Attorney. He joined the Sheriff's Office in 2001 when Brown hired him as his director of labor relations and legal affairs. In 2004, Brown appointed him his chief deputy, which is the second in command.
His partnership with Brown dates back to 1994 when Brown was DeKalb Public Safety Director and Mann represented him on employment and personnel matters.
Mann said he plans to run for sheriff against six other candidates in the May 20 special election because he has been in the office for 12 years, helped improve morale and credibility, and helped it earn Triple Crown accreditation from the Commission on Accreditation for Law Enforcement Agencies, the American Correctional Association and the National Commission on Correctional Healthcare.
He said less than 40 of the nation's 3,000 sheriff's offices nationwide have all three accreditations.
Mann said Friday that his top priority before the election is improving pay for the 460 corrections officers who watch 2,700 prisoners at the DeKalb County Jail.
He'll ask the Board of Commissioners for $800,000 to give current officers a 5 percent pay raise.
"We are one of the lowest paid sheriff's offices in the metro area with respect to our detention officers and that's my top priority to make sure that we attract, maintain and fairly compensate our corrections officers," he said.