Parents of slain teens to help launch 'Self-Defense' campaign
2/28/2014, 2:48 p.m.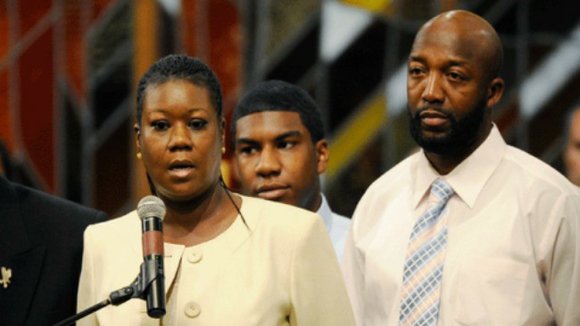 The parents of slain teens Jordan Davis and Trayvon Martin will help launch a national "Self-Defense" campaign on March 10 at the Tallahassee Leon Civic Center in Florida.
Lucia McBath and Ron Davis and Sybrina Fulton and Tracy Martin will join family members of Marrisa Alexander, Attorney Benjamin Crump, the Rev. Dr. Jamal Bryant, African-American clergy and social justice leaders at the 9:30 a.m. rally.
Michael Dunn, who shot Jordan to death at a gas station in Jacksonville, Fla., because he was playing loud music in his car, was found guilty of attempted murder on Feb. 15 for endangering the lives of the three other occupants in the SUV – but not for Jordan's slaying.
Each attempted second-degree murder charge carries a maximum sentence of 30 years in prison, and a fourth charge he was convicted on carries a maximum of 15. He will be sentenced March 24.
Jordan, 17, from Marietta and three friends had stopped at the Jacksonville gas station for gum and cigarettes on Nov. 23, 2012, amid a day of "mall hopping and girl shopping" over Thanksgiving break.
Dunn, 45, asked the teens to turn down their music, which witnesses said was shaking their SUV. He said Jordan disrespected him by saying "F--- that n-----."
Dunn opened fire, hitting Jordan three times, and then chased after the car firing seven more shots into it. Dunn, tried under Florida's Stand Your Ground law, said he feared for his life but no gun was found in the teens' car.
George Zimmerman, also tried under the Stand Your Ground law, was found not guilty on July 13, 2013, in the shooting death of 17-year-old Trayvon in Sanford, Fla., on Feb. 16, 2012.
Trayvon was on his way home from the store with a bag of Skittles and a can of soda when Zimmerman told 911 he was going after the "suspicious-looking" teen.
Organizers say the campaign will mobilize African-American clergy, civil rights leaders, business owners and concerned citizens nationwide to protest and challenge judicial biases regarding people of color and the poor.
"African-Americans are coming together to make an undeniable stand for justice and against prejudice," a Feb. 27 statement about the event said.
Syndicated radio talk-show host Tom Joyner, representatives from the National Bar Association, the Florida Legislative Black Caucus, and concerned citizens are expected to join Bryant, pastor of the Empowerment Temple AME Church and president of the Empowerment Movement, to petition the Florida state Legislature and roll out a national strategic "Self-Defense" reform strategy.
Bryant is also the spiritual adviser to Trayvon's parents.
Rally participants will march to the Tallahassee State House where the national "Self-Defense" campaign will be launched.
The Tallahassee Leon Civic Center is at 505 W. Pensacola St.
For more information, visit www.empowermenttemple.org.