Sheriff Brown bids farewell to colleagues, county workers
Ken Watts | 2/28/2014, 6 a.m.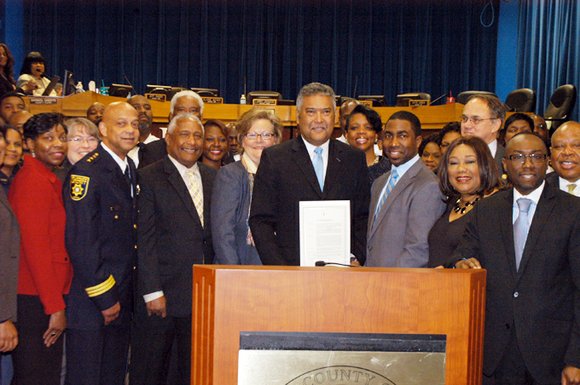 DeKalb Sheriff Thomas Brown bid an emotional farewell to longtime colleagues and county employees on Feb. 26 as the Board of Commissioners recognized his nearly 14 years in the office in a proclamation ceremony.
Brown, who spent 29 years in DeKalb government, said the county has been good for him.
"It's been a good ride for me," he said, his voice breaking. "I don't know where God is gonna take me, but wherever he does, I'm gonna be in a good place either doing the people's work or playing with that grandson of mine."
Surrounded by his command staff and senior administrators in the county's Maloof Auditorium before the board's monthly meeting, Brown said he's satisfied that he leaves the Sheriff's Office in better shape than he found it in 2001 when he was appointed to the office after the assassination of Sheriff-elect Derwin Brown, who was no relation to him.
Brown stepped down on Feb. 28 with more than two years left on his term.
He is running for the 4th District congressional seat held by incumbent Democrat Hank Johnson. Qualifying for the May 20 primary takes place March 3-7.
So far, TomBrownForCongress.com says he has raised $130,000 in donations.
In his remarks Tuesday to a crowd of admirers in Maloof Auditorium, Brown fondly recalled his tenure as sheriff. He said the office, under his administration, has been a good steward of the taxpayers' money.
"We improved security and spent money to upgrade our computer network," he said. "We put video systems throughout the jail and courthouse so that we can make sure that our employees are protected. We did that without spending one dime of the taxpayer fund. We did it with confiscated drug money."
One by one, commissioners and interim CEO Lee May praised Brown's leadership.
"You took chaos and made it calm," said the board's presiding officer, Larry Johnson, alluding to Brown's successful efforts to modernize and reform operations and root out corruption.
The board's proclamation noted that under Brown, the Sheriff's Office "has earned and maintained accreditations from the nation's three leading law enforcement rating groups, the Commission on Accreditation of Law Enforcement Agencies (CALEA), the National Commission on Correctional Health Care (NCCHC) and the American Correctional Association (ACA)."
District 6 Commissioner Kathie Gannon said Brown has shaped the county in many ways.
"Tom Brown's name will be synonymous with DeKalb County for a long time to come," she said.
Brown came to DeKalb in 1985 as fire chief. Four years later, the county's first CEO, Manuel Maloof, appointed him public safety director, a post Brown held for 11 years before becoming sheriff. He said he leaves office with mixed feelings.
"You reflect on your career and everything that you've done. And you want to think that you've always done the right thing even though there has been adversity at times. But it's a ride that I would not exchange for anything in the world," he said. "No matter what happens, I can always look back to DeKalb County and say it did right by me and I did right by them."