State's minimum wage will not rise this year
Ken Watts | 2/28/2014, 6 a.m.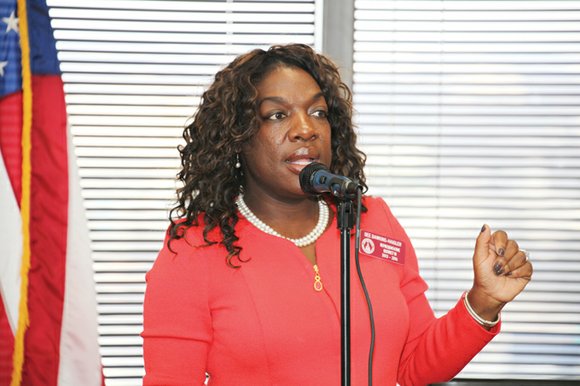 Efforts to raise Georgia's minimum wage will not make it to a vote in the current session of the General Assembly that ends March 20.
Members of the Georgia Legislative Black Caucus, who are pushing efforts to increase the state minimum wage from $5.15, said Thursday it's unlikely that House Bill 97 will pass because of election-year politics, a shorter legislative schedule and pressure on lawmakers to wrap up business to get on the campaign trail for the May 20 primary.

The bill, co-sponsored by state Reps. Dee Dawkins Haigler (D-Lithonia), the Black Caucus chairwoman, and Tyrone Brooks (D-Atlanta), is in committee.
A two-hour public hearing scheduled by the caucus on Feb. 26 only lasted 15 minutes because members were wrestling with last-minute bills on the floor and couldn't get away to attend.
Dawkins Haigler, who represents House District 91, said they were going to hear from labor leaders and clerical and restaurant workers.
"People are having a hard time on the minimum wage because it's not a livable wage," she said. "Georgia may be the No. 1 place in the country to do business, but it's also the place with some of the lowest wages. Workers tell us how difficult it is to work several jobs and care for their children."
HB 97 is seeking to boost minimum pay to a yet-to-be determined higher rate. It also would provide for annual increases to match the cost of living.
The federal minimum wage is $7.25 an hour, and President Barack Obama is pushing Congress to increase it to $10.10. He already has signed off on that rate for federal contractors effective in January.
Dawkins Haigler said that the state's $5.15 hourly rate is inadequate.
"We have people here who work full-time jobs on top of part-time work and still have to receive state assistance because they don't have wages that are livable," she said.
Brooks said he introduced a minimum wage bill at the urging of the Georgia Citizens Coalition on Hunger. The group wants to see the state minimum set at $15.
"We have not been able to have a meaningful discussion on the issue in the Legislature on raising the minimum," he said. "Probably not $15 an hour but somewhere between where we are now and $15 is reasonable."
Dawkins Haigler said Black Caucus members will be working to build citizen support for HB 97 in the 2015 session.
"The caucus will do a summer-long public hearing tour around the state after the primaries to discuss minimum wages," she said. "We're going to start in rural areas and work our way to the larger communities of our state. We'll also have symposiums on financial literacy, economic development and asset building starting in June in Valdosta."